Small Business Loans
Learn how a small business loan can be used, the different loan types, and how to apply for financing
Find Out How Much Cash Your Business Could Receive

How Small Business Loans Can Help Your Business
Small businesses rely on steady cash flow to thrive. Yet accessing and managing cash flow can often be a pain point for many business owners. A small business loan gets you capital you need to cover operational expenses, pay for unexpected expenses, or foster business growth. QuickBridge offers personalized small business funding solutions to help your business succeed. Explore our financing solutions and available loan types to discover what may work best for your business goals. We can't wait to watch your business grow.
Cover Day to Day Expenses
Business Operations
Having sufficient cash flow is essential for your business's daily operation. A short-term, small business loan can inject cash into your business to finance your daily expenses.
Employee Payroll
If business cash flow is tight, you want to minimize the effect it has on your staff. Use payroll loans as a form of gap financing to avoid any delays in paying your employees.
Inventory Financing
Your ability to meet customer inventory demands directly impacts your bottom line. Using business financing to buy inventory is particularly critical for product wholesalers and retailers.
Strategic Investments
Business Expansion
A spike in sales, entering a new market, or a business acquisition requires capital to finance your expansion plans. Securing funding lets you take advantage of growth opportunities in real time.
Equipment Financing
Businesses that rely on equipment to operate, know the importance of upgrading or replacing these items when needed. Having the cash to buy new equipment is vital to your success.
Renovation Financing
Giving your business's physical space a facelift can add real value and drive traffic. With renovation financing, you get the funds to make improvements without impacting day-to-day cash flow.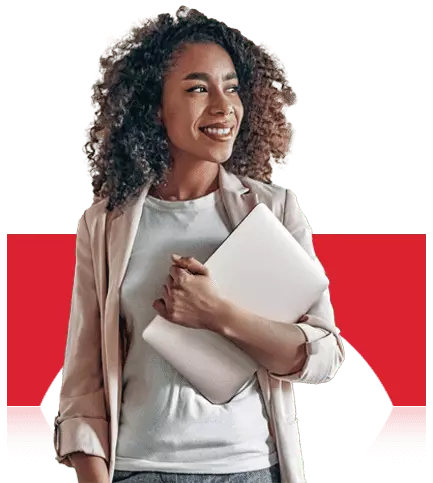 Your Path to a Small Business Loan Starts Here
Get fast financing for your business when you need it most, not when a bank decides you're ready. Applying requires no commitment and just takes minutes to complete.
Simple application process
Receive funds within days
Business loans of up to 500K
Types of Small Business Loans
The type and size of small business loan that is right for your business will depend not only on your current need, but also on the stage your business is in and the nature of your industry. Our knowledgeable loan specialists will help you find the right option among the various types of small business funding solutions. At QuickBridge, we provide small business loans that best match each business owner's specific need.
How to Apply for a Small Business Loan
Our fast and secure online application only takes minutes to complete. Once we receive your application, one of our dedicated loan specialists will work with you to learn more about your business and help you find the right lending solution. If your application is approved, you can receive funds in as little as 24 hours. No collateral or down payment is required when applying.
1
Simply Apply Online
The application process is easy and only requires a driver's license and bank statements.
2
Get a Quick Credit Decision
We provide fast credit decisions and offer flexible payment options that best fit your specific needs.
3
Receive Funds Fast
If a credit approval is established, funds are sent directly to your bank account in matter of days.
Why Choose QuickBridge?
Thousands of satisfied customers have trusted us to provide them with their business financing solutions. QuickBridge is an accredited Better Business Bureau (BBB) lender and proud to hold an A rating.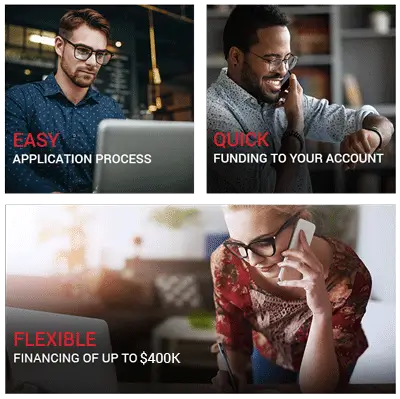 Why Choose QuickBridge?
Thousands of satisfied customers have trusted us to provide them with their business financing solutions. QuickBridge is an accredited Better Business Bureau (BBB) lender and proud to hold an A rating.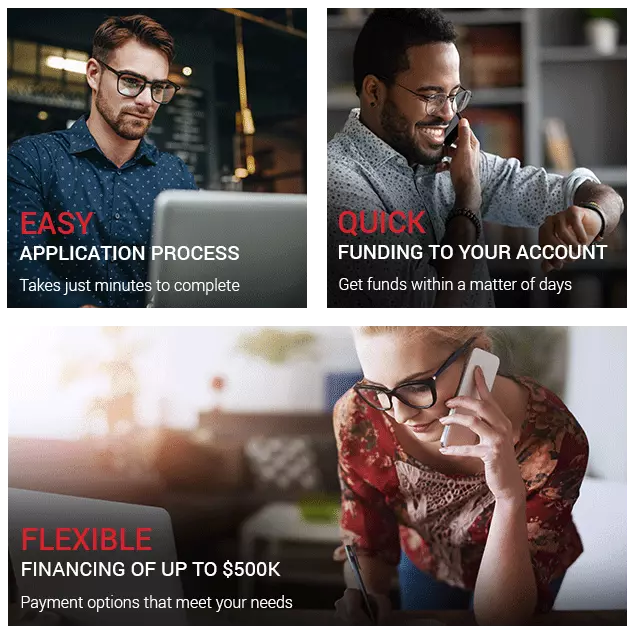 Financing Resources for Small Business Owners
QuickBridge is proud to support underrepresented small businesses with resources and customized lending options.
---
We support female entrepreneurs with flexible loan options to help build and grow their enterprise. Our small business financing options for women are customized to fit the unique needs and requirements of women-owned businesses.
---
Minority-owned small businesses continue to flourish in the U.S., and the right small business loan can help increase the breadth of these profitable businesses even more with flexible, hassle-free working capital options.
---
Military veterans make up an important part of the small business community. We provide innovative small business financing options, that give veteran-owned businesses the fiscal flexibility to grow and thrive.
---
FAQs: Small Business Loans
We understand that there are many factors to consider when searching for business financing. We're here to answer all of your questions and help you make the best choice for your small business.
What are the requirements needed to get a small business loan?
Most traditional lenders require collateral, tax returns, income statements and additional documents. As an alternative lender, we typically only require your current driver's license and three months of bank statements. On rare occasions we may require business or personal tax returns.
Can I qualify for a small business loan if I have bad credit?
We know a
bad credit
score doesn't tell the whole story of your small business. That's why we consider other qualifying factors, such as time in business and average monthly revenue. Even if your credit is less than stellar, we'll work with you to find the lending option that makes the most sense for your business, and help you build your credit to ensure you get the best terms possible going forward.
Can I get a small business loan for my startup?
Small business startup loan requests are more likely to be declined by traditional banks because of the risk they carry. Most startups haven't had the time to build the kind of credit that traditional banks typically require. Our small business loans for startups provide options for new businesses that have been turned down by traditional lenders. We will consider businesses that have been operating for at least six months, and we do not require a down payment or collateral.
How does an SBA small business loan work?
Small Business Administration (SBA) loans are offered by the Federal Government to small business who qualify. In order to be considered, business should have at least three years of operating history, a minimum FICO score of 650, minimum annual revenue of at least $500,000, and no current federal tax liens. While SBA loans offer favorable interest rates and minimal fees, the application process can be complicated and many small businesses don't fit the specific criteria required.
What is an alternative small business lender?
Alternative lenders
like QuickBridge provide loans, lines of credit, or cash advances to small businesses outside of the traditional forms of credit offered by a bank, credit union, or the Small Business Administration (SBA). Because they are not banks, alternative lenders have less restrictive lending practices, and are able to offer small businesses with less than stellar credit a much higher application approval rate, and favorable loan options.
How do I get a small business loan in my state?
What Small Business Owners Say
Excellent
Based on 390 Reviews
Jul 06
Had a great experience!!!
This additional capital was exactly what I needed to help with unexpected expenditures. I would definitely recommend QuickBridge to a friend!
Jan Banks
Jun 14
Darryl Strayhorn is awesome
He is always just a phone call away to get funds quickly. I consider him part of my team for my business. QuickBridge For The Win!
Noah Burkham
May 19
Rey made this very simple
I am excited about moving forward and the possibility of access to more capital this year if and when needed. I am grateful.
Roger Caatro
Jun 05
Quickbridge has been a valued…
Quickbridge has been a valued contributor to the success of our company. Providing timely support fueling company growth.
Glenn Stach