Feed Your Business with Poultry Farm Loans
Find Out How Much Cash Your Business Could Receive

Poultry Farm Financing Can Lead to Healthy Growth
Do you want to explore free range opportunities? Poultry farm loans give you financial flexibility as you try to grow your business. The right financing can help you secure the resources you need. Poultry farm loans can be used to invest in marketing and advertising or to purchase new farm equipment.
According to the National Chicken Council, chicken is the most consumed protein, with over 101 pounds of chicken consumed per capita, a number that has risen steadily since 1960. Approximately 89 percent of consumers polled said they consumed chicken at least once within a two-week period. The agriculture business world is evolving to meet consumer demand. Consumers are increasingly interested in knowing about how their food is raised and processed. They're looking for sustainability and animal-friendly conditions. Whether you need to change how you operate or simply expand, poultry farm loans can help.
Explore Poultry Farm Loans That Work for You
Traditional lending options, such as banks or the Small Business Administration, can work well if you need a large loan. SBA poultry loans, for example, are a great choice if you're looking to purchase a large amount of land or invest in new, expensive structures. However, the SBA typically has a long wait time to approve applications, forcing many poultry farmers to wait months before receiving critical funds. Additionally, the Farm Service Agency offers a financing program for a variety of loan needs. These loans range from covering startup costs to loans specifically for women and minority farmers. Similar to the SBA, however, these loan applications are often lengthy and leave many farmers waiting for months to receive funds they need now.
But for many small farms, smaller amounts of cash that support specific initiatives can be more valuable. Often, farmers need funds quickly to capitalize on an opportunity or cover specific costs and can't afford to wait for the long turnaround times banks or the SBA offer. Alternative lenders offer flexible requirements and fast processing times so you can receive funds in as little as 24 hours. Here are some poultry farm loans that can work in small, short-term financing formats.
Working Capital Small Business Loans
Working capital poultry farm loans are very flexible. The working capital funds can be used to pay for various types of business operating expenses. For example, if you want to ship out more inventory to grocery stores to keep pace with rising demand, a working capital loan can cover all expenses related to increasing inventory: shipping costs and supplies, payroll, or purchase orders.
If you want to expand your business to keep up with demand, you can use working capital to:
Hire staff to deal with operational challenges.
Purchase software that lets you improve efficiency.
Cover a sudden cash flow shortage to avoid business instability.
Equipment Financing for Poultry Farm Loans
Using poultry farm loans for equipment financing can help you respond to new demand from local restaurants and groceries in need of poultry. A small business equipment loan can be used to purchase feeding equipment so you can keep pace with rising demand for locally sourced chickens. Equipment financing loans can be used to purchase or lease almost any business-related equipment, including pre-owned equipment.
Chicken Farm Loans Used for Marketing Costs
According to the National Chicken Council study mentioned earlier, chicken farms face stiff competition. While chicken consumption is increasing, changing dietary habits and increasing consumer awareness pose a serious challenge to long-term demand. As a result, chicken product producers will need to differentiate themselves in the market to stand out. A small business loan can be used on marketing costs such as advertising or new packaging designs.
Marketing programs are valuable in fueling growth while driving positive product awareness. The right loan can help you bring in experts or pay for advertising. This will help you improve your image in the marketplace. Plus, it increases awareness of the many ways poultry contributes to a healthy diet.
How QuickBridge Can Help Your Business
QuickBridge offers flexible requirements and quick access to funds for poultry farmers who need funding fast to capitalize on growth or improve their business. If you have at least $250,000 in annual sales and at least six months in operation, you may qualify for up to $400,000 to support your business. The team of financial experts at QuickBridge work fast to secure funding for small business owners in as little as 24 hours upon approval – because we know your time is limited as a busy business owner.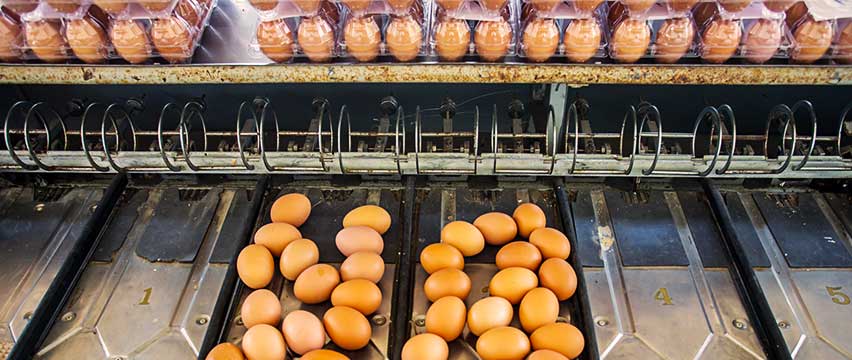 FAQs: Short Term Business Loans
What is the Farm Service Agency (FSA) farm loan?
The FSA is a government agency designed to support farmers and ranchers. It offers loans and financing for farmers with a variety of needs from startup costs, emergency assistance, and ownership or operating loans. The FSA typically takes months to approve applications, however, so if your business needs access to funding fast, then consider working with an alternative lender to receive funds quickly.
How hard is it to get a poultry farm loan?
It depends on where you get financing for your poultry farm. The FSA may have stricter requirements to meet in order to get approved. For an alternative loan, lenders like QuickBridge require at least $250,000 in annual sales and fair to excellent credit.
What credit score is needed for a farm loan?
Credit score requirements vary by lender, but many loans need fair to excellent credit in order to qualify for financing.
Small Business Loans to Finance Your Poultry Farm Business:
Operational Expenses
Poultry Farm Equipment
Feed Supplies
Labor Costs
Unexpected Bills
& Much More ...
QuickBridge is a new kind of alternative lender. We combine the personalized guidance of a bank, with the speed of an online lender to provide small, short-term loans that are "just right." As a result, you can get financing in a matter of days without sacrificing the confidence that the loan will fit your needs.
Excellent
Based on 380 Reviews
Jul 06
Had a great experience!!!
This additional capital was exactly what I needed to help with unexpected expenditures. I would definitely recommend QuickBridge to a friend!
Jan Banks
Jun 14
Darryl Strayhorn is awesome
He is always just a phone call away to get funds quickly. I consider him part of my team for my business. QuickBridge For The Win!
Noah Burkham
May 19
Rey made this very simple
I am excited about moving forward and the possibility of access to more capital this year if and when needed. I am grateful.
Roger Caatro
Jun 05
Quickbridge has been a valued…
Quickbridge has been a valued contributor to the success of our company. Providing timely support fueling company growth.
Glenn Stach