Architecture Firm Loans for Building Designers
Find Out How Much Cash Your Business Could Receive
Designing Business Growth with Architecture Firm Loans
The architecture sector is going through a period of growth. Billings in the U.S. grew to $45 billion in 2017, the American Institute of Architects found. Funding for your architecture business can help you take advantage of the growth opportunities available to you. Today, you no longer need to sit back wishing you had more capital. Alternative lenders are making small business loans accessible in a way they haven't in the past. When it comes to architecture firm loans, there are numerous options to secure business funding. However, alternative lenders in particular can get you financing quickly. If you need money for a key project or run into a cash flow problem, they can help. These types of lenders are modernizing small business lending, separating themselves form the other funding sources.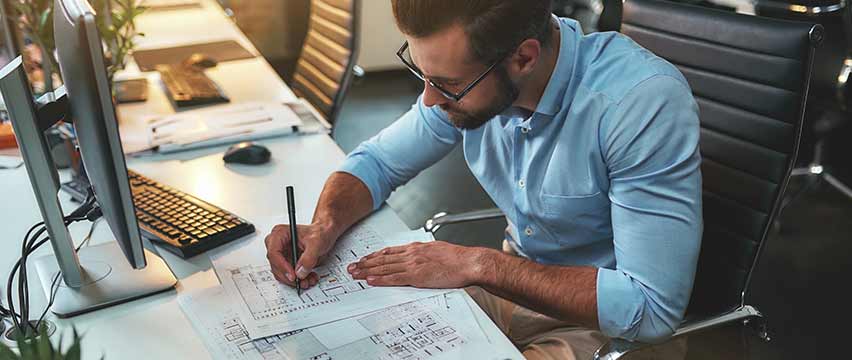 Where to Find Lenders for Architects
Architecture firm loans are available from a wide range of sources for building designers. Some of the most common destinations for such financing are:
Traditional Banks
Banks are ideal if you need a large loan. You can trust a bank to do its due diligence to ensure you can handle a loan. Banks will also work closely with you to plan your growth strategies in light of the loan. The problem is that all of this care and attention comes with a lot of time and effort. Banks will often spend weeks or even longer processing a loan application. The scale of bank loans also means most are conservative about risk. This means that loan rejection rates - particularly for small business loans - are high. There are times when a bank is a good option for architecture firm loans, but they may not be a great first choice.
Small Business Administration
The U.S. Small Business Administration runs a wide range of loan programs. You still go to a bank for these loans, so expect slow application approvals. But the support from the SBA program ensures a higher approval rate and more favorable terms. Loans backed by the SBA are a good fit if you need the kind of large, structured loan that you'd get from a bank, but can't secure a bank loan.
Alternative Business Lenders
As we mentioned earlier, alternative lenders are a great fit for small business architects. Alternative lenders use highly automated processes that mix digital decision-making and human expertise. This means you can get a loan quickly to meet a key need. Much of the process is online, in which decisions happen within hours. If the loan is approved, lenders typically deliver funding in a matter of days. All of this adds up to an efficient process for small, short-term loans.
Why Choose QuickBridge for Architecture Business Financing?
  Simple application process
  Business loans of up to $400K
  Receive funds within days
  No hidden fees
  Early payoff discounts
  Flexible loan term options
Types of Architecture Firm Loans
Working Capital Loans
Many times, a design project's success depends on you getting what you need now. With working capital loans, you can typically acquire cash for your business fast. They also provide the flexibility to be used for a wide range of purposes. As such, you can use these architecture firm loans to:
Bring in a specialist contractor to fulfill your vision for a project.
Purchase software for advanced blue print modeling and rendering.
Buy difficult to source materials to meet a specific timeline.
Fill a cash flow gap in between major a project.
Business Operating Loans
The architecture industry is constantly changing and innovation is the norm. As such, you need to invest in your business operations to help give your firm an edge. Architecture firm funding built to support business operations, can help you keep up with the changes needed to stay competitive. For example, you may use such a loan to:
Hire short-term staff to meet a key need.
Expand one of your teams to take advantage of a growth opportunity.
Upgrade your computers or drafting software.
Invest in training or continuing education for staff.
Small Business Loans Designed for Architecture Companies:
Operating Expenses
Contractor Payments
Design Materials
Payroll
Unexpected Bills
& Much More ...
When considering a business loan for your architecture firm, look to QuickBridge for fast funding and smart advice. We are different because we work to include elements of consulting into our loan products. Our in-house funding experts will analyze your industry and take the time to understand a building designer's plan for the loan. From there, we look at your application to make sure the funding you are asking for aligns with your goals.
Other alternative lenders simply check to ensure that you don't present too much risk. We help you find the right architecture business loan for your unique needs. When it comes to loans for architects, QuickBridge can help you stand out.
Excellent
Based on 359 Reviews
Apr 05
Excellent customer service
Manuel Venegas was an amazing person to interact with. Very courteous and…
Ravi Rao
Feb 09
Process was seamless
Process was seamless and every individual was incredibly professional.
Bradley Grant
Jan 09
Fast
Fast, fair, and if you get Chris Botros as your lending specialist, actually fun.
Germain Holdings Inc
Oct 16
Very professional
Very professional and the money was in my account the next day.
Tearra