Empower Yourself with Business Loans for Women
Find Out How Much Cash Your Business Could Receive

The Growth and Challenges Women Business Owners Face
As a female business leader, you understand the importance of securing business loans for women. You may need extra cash for inventory, equipment, marketing, or cash flow emergencies. Loans for women entrepreneurs can help you access the capital your business needs to grow.
According to the National Association of Women Business Owners, over 11.6 million firms in the U.S. are owned by women and the number of new women-owned businesses is growing at double the rate of male-owned businesses. Female-operated businesses employ around 9 million people and generated $1.7 trillion in sales in 2017. So it is critical that these companies have access to business loans for women to continue to expand and grow.
Economic studies show that female entrepreneurs have made their mark on the nation's economy. Although, despite their strides, women-owned businesses continue to struggle with gaining equal access to small business loans and federal funding. According to a U.S. Senate report on women entrepreneurs, women receive more loan denials than men and account for only 3.5% of federal lending contracts.
There are plenty of myths about women in business that cause lenders to second-guess financing female-run organizations. Even though female business owners are making vast contributions to the economy, they can't seem to secure funding, to no fault of their own. Instead, they are compelled to turn elsewhere for business loans for women.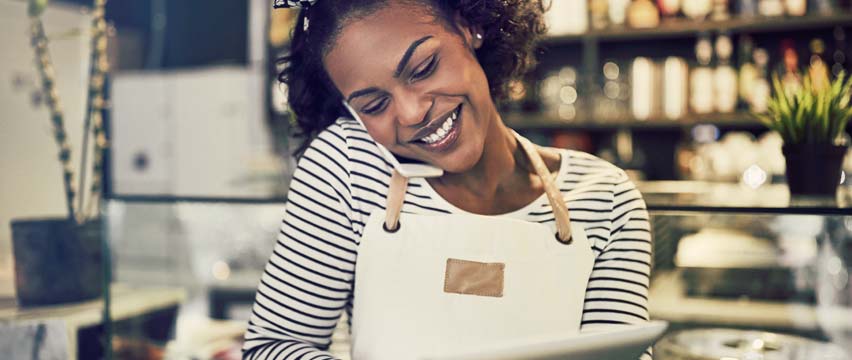 Types of Lenders Offering Business Loans for Women
There are plenty of places you might turn to for funding. You have hundreds of local banks and online lenders to choose from. Most loans for women entrepreneurs fall under one of three different categories. They each have benefits and drawbacks that can impact your workflow and financial bottom line.

Traditional Bank Loans
When you try to secure business loans for women from a large-scale bank, you may experience the following perks:
Banks offer large loans. When you are approved for women-owned business loans from a bank, you can request large amounts of funding. This financing can go toward major investments, such as building or renovating a business space.
Many banks provide consulting services. If you aren't sure exactly how you might use your loan to improve revenue, major banks offer expert insights into ways you can use your business loans for women, no matter what industry you're in.
Though these upsides are beneficial, working with banks comes with some challenges, including:
Banks have high rejection rates. Since they receive so many loan applications, banks are more selective when choosing which businesses they'd like to support.
Banks require time-consuming application processes. Applying for a loan through a bank requires a lot of personal and financial information. Banks also take a long time to process loan applications, often delaying your access to working capital by days or weeks. In short, you'll need to jump through a lot of hoops to get access to bank-backed business loans for women.
Banks present long repayment schedules. These competitive lenders can place a significant financial burden on business leaders by initiating debt over a long period of time.
Banks can be a helpful source for business loans for women, but they are not beneficial to all types of candidates. If you have bad credit or lack collateral, a bank will likely reject your application. If you need fast access to cash, a bank may not be able to provide you with funding in time. Their lending services are typically not well-suited for small business owners, whose priorities evolve rapidly.
Small Business Administration Loans
The Small Business Administration (SBA) is a government entity that offers resources for female entrepreneurs who need a business loan. Its loan program assists small business owners in the following ways:
SBA loans have relatively high approval rates. Although they are not quite as inclusive as alternative lenders, they are much more forgiving of debt and poor credit than banks are.
The SBA offers sizable loans. This organization can offer large amounts of lending that can help you fund large-scale business investments. Though these upsides are beneficial, working with banks comes with some challenges, including:
SBA loans have special terms and interest rates. Small business owners can save money with customized conditions and payment amounts.
Gaining business loans for women from the SBA does not come without consequences. Some of the downsides of SBA funding include:
SBA loans do not offer autonomy. Though there are certain conditions that are flexible to different businesses, the SBA is strict when designating how borrowers can spend their funding.
The SBA takes a long time to approve applications. It does not take as long to process applications as banks, but it does not compare to alternative lender speeds.
SBA loans are dictated by government practices. Since the SBA is associated directly with the U.S. government, your financing may be influenced by local, state, and national policies.
SBA loans can give small businesses a greater chance of approval than going with a large-scale bank. However, their strict regulations may not make them the best choice.
Business Loans for Women from Alternative Lenders
Applying for financing from an alternative lender provides an experience that is unique from banks and the SBA. Here are some benefits of working with alternative lenders:
Alternative lenders process applications quickly. Unlike banks and the SBA, these lenders can provide business loans for women within 24 hours of approval.
Alternative lenders are forgiving of debt and bad credit. Business owners whose loan applications have been rejected by banks and the SBA may have an easier time being approved for business loans for women from alternative sources.
Alternative lenders encourage flexible use of funding. You can use this financing however you'd like. This puts the financing power into the hands of the person who knows your business best: you.
For small business owners who need quick access to working capital, these advantages make alternative lending an ideal option. However, not all alternative lenders offer the same benefits. As a result, you might experience some of the following drawbacks:
Some alternative loan processes can be impersonal. Certain lenders are so automated that they do not offer advice or insight to business owners who need guidance.
Alternative loans are limited in scale. Unlike banks and the SBA, many alternative lenders have a cap on the amount of funding you can use toward your business.
At QuickBridge, we strive to provide business loans for women at a personal level. We provide smarter funding designed to match the unique needs, opportunities, and rhythms of your business. This is a solution that gives you the right amount at the right term, so you can achieve your immediate goal and move onto the next one.
Why Choose QuickBridge for Women Owned Business Financing?
  Simple application process
  Business loans of up to $500K
  Receive funds within days
  No hidden fees
  Early payoff discounts
  Flexible loan term options
How You Can Use Business Loans for Women
There are plenty of ways you can use financing to improve your small business' bottom line. Business loans for women from QuickBridge allow you to spend your loan how you best see fit. Here are some examples of ways you can empower your business:
Grow the Scale of Your Business
If you've noticed a recent increase in sales, you might want to purchase more space or invest in another location. Business expansion loans can help you expand into new territories without cutting into your reserved emergency funds.
Stock Up on Inventory
You may need to stock up on inventory to meet customer demand, especially if you've started to see a spike in revenue. Business loans for women can be used to purchase new products and raw materials in bulk and at lower prices.
Improving Your Marketing Initiatives
Whether or not you have a current marketing strategy in place, you can use business loans for women to reach your targeted audience. You can use this funding to hire a marketing manager or invest in paid techniques, such as email marketing and social media advertising.
Upgrade Your Business Equipment
If you're using outdated machines in your everyday business operations, you can use supplementary capital to repair, replace, or buy new equipment.
Expand Your Team by Hiring New Employees
Are you interested in adding more employees to your organization? Business loans for women can offer you funding to provide competitive salaries and benefits that can retain and add members to your hard-working staff.
QuickBridge even provides unsecured business loans, which provide a quick infusion of cash to pay off outstanding expenses, cover financial gaps and move onto the next project.
Rise to the Top with Business Loans for Women from QuickBridge
QuickBridge is here to help when other lenders may be hesitant to do so. We work to support female entrepreneurs in search of capital. Our business loans for women have an easy application process and no-nonsense terms. Plus, there are no surprises or hidden fees. Contact us today to get started.