Overcome Seasonal Gaps with Roofing Business Loans
Find Out How Much Cash Your Business Could Receive

Protect Your Business from Cash Flow Downturns with Roofing Financing
Running a roofing company can be a highly lucrative and profitable business. However, it comes with several challenges and a strong need for roofing business loans. While customer demand is high, there are several reasons why roofing businesses experience cash flow lulls. The supplementary financing from roofing business loans can enable contractors to keep up with rising needs while capitalizing on innovation taking place in the industry.
Common Sources that Offer Roofing Business Loans
Luckily, roofers in need of financing have several ways to access capital. Here are three common sources.
1. Banks and Credit Unions
Traditional banks and credit unions can provide roofers with access to large amounts of funding and a long payback cycle. However, these loans are typically complex, come with a long application process, and require strong credit as a backing. While going this route can work under some circumstances, it is more appropriate when seeking a large amount of funding as it will require your time and resources.
2. SBA Loans
The U.S. Small Business Administration (SBA) offers a variety of loan opportunities geared toward small businesses. These can be a bit more flexible than typical bank loans. However, SBA loans still have an extended application process and are known to be difficult to obtain. On the plus side, SBA loan requirements are specifically designed to accommodate some of the credit- and asset-related risk associated with small business roofing loans.
3. Online Alternative Lenders
Organizations offering loans online are changing how the lending process works. They employ alternative lending and similar methods to accelerate the application process. They also deliver small, short-term loans built specifically for small businesses. This can be an ideal match for roofing business loans as they provide fast access to funding for immediate needs. Alternative lenders offer different loan terms and repayment options than banks, and they don't require a long-term commitment.
Small Business Loan Options for Roofers to Consider
Online lenders can offer a variety of roofing business loans to help roofers keep pace with industry demands. At QuickBridge, our lending process involves gathering data from a wide range of sources and identifying the right loan and term for our client's specific needs. A few common roofing business loans options include:
Working Capital:
Working capital roofing business loans offer funding with flexibility. Many small business loans are designed to accommodate a specific purpose, which limits their use. Working capital loans, however, are designed to be used for a variety of business expenses. For example, a working capital loan can be used to hire seasonal employees, cover payroll, purchase inventory, and repair equipment. The funds can help you grow your business without a lot of strings attached.
Bad Credit Loans:
Bad credit business loans are a great roofing business loan option if you've recently launched your business or have poor credit history. Having a recently established business or less-than-stellar credit makes it harder to qualify for a traditional funding. A bad credit loan will look for alternative ways to back your funds and evaluate your risk. This grants you access to the cash you need, even if it wouldn't be available from a typical lender.
Bridge Loans:
One challenge of running a roofing company is that most commercial clients and general contractors pay their invoices in 30 to 60 days. This delay can be problematic for roofers since many can't afford the prolonged wait for payment. Business bridge loans serve as a stopgap for business finances. They offer short-term cash flow coverage for basic but essential expenses while you wait for additional funding. Bridge loans help you meet your financial obligations on time without busting your budget.
Unsecured Financing:
Unsecured loans are ideal if you need a quick infusion of cash to cover financial gaps and move onto the next project. Unsecured loans are not backed by collateral. As a result, you get the funds you need without having to gather a bunch of assets and put them at risk.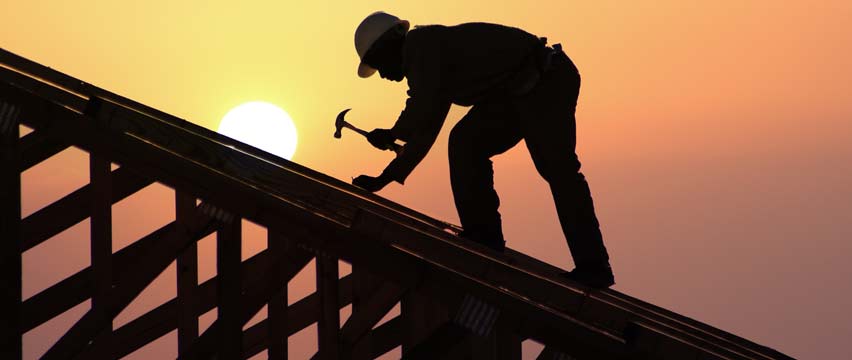 Understanding the Demand for Roofing Business Lending
The roofing industry is experiencing a period of growth. It is also highly dependent on new construction. Economic expansion in recent years has led to consistent demand increases in the industry. According to IBISWorld, the U.S. market saw a compound annual growth rate of 5.8 percent from 2013 through 2018. The industry is expected to continue growing from 2018 through 2023. This market expansion comes at a time when the industry is experiencing significant job growth.
The U.S. Bureau of Labor Statistics (BLS) found that employment growth for roofers will happen at an 11 percent annual rate from 2016 to 2026. This is faster than the construction industry, where job growth is happening at a 10 percent rate. It's also much faster than the 7 percent average growth rate across all occupations in the U.S.
It turns out that the roofing industry tends to grow faster than construction because new buildings need roofing and roofs tend to experience wear and tear faster than other parts of the building. This demand for constant attention creates stability in the sector, making it a strong opportunity for growth and investment.
At QuickBridge, we work closely with our customers to help them find the right small business loan for their unique needs. Our roofing business loans are a fast and simple funding solution for roofing companies. This allows roofing contractors to grow their business and take advantage of current opportunities in the marketplace.
Contact us today to learn more about our roofing business loans and stay ahead of the competition.
Excellent
Based on 390 Reviews
Jul 06
Had a great experience!!!
This additional capital was exactly what I needed to help with unexpected expenditures. I would definitely recommend QuickBridge to a friend!
Jan Banks
Jun 14
Darryl Strayhorn is awesome
He is always just a phone call away to get funds quickly. I consider him part of my team for my business. QuickBridge For The Win!
Noah Burkham
May 19
Rey made this very simple
I am excited about moving forward and the possibility of access to more capital this year if and when needed. I am grateful.
Roger Caatro
Jun 05
Quickbridge has been a valued…
Quickbridge has been a valued contributor to the success of our company. Providing timely support fueling company growth.
Glenn Stach