Help Your Business Bloom with Florist Loans
Find Out How Much Cash Your Business Could Receive

The Right Florist Business Funding is Key to Growth
Florist business loans can be the right option to help your business blossom. When you've created a loyal customer base and proven that your flowers are the best in town, you might see an increase in demand. The right small business loan can help you secure certain flower types to meet rising customer requests.
Getting florist business loans can make a big impact on your flower shop. It's important to figure out the type of loan you'll need to align with your business goals. Flower shop loans can provide you the necessary working capital you'll need to execute your growth plans. The right loan type can offer flexibility and quick access to funding.
Types of Florist Business Loans
There are plenty of different places you might look to when searching for florist business loans. There are three major types of lenders, each with their own strengths and weaknesses.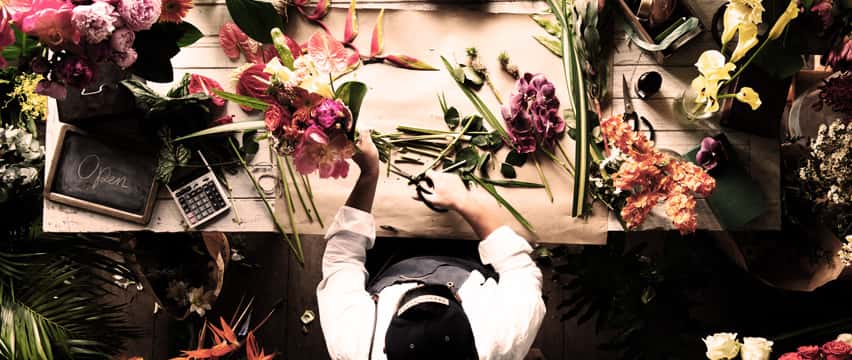 Traditional Bank Loans
Many business owners think it's a good idea to turn to a large-scale bank to cover their financing needs. Here are some of the perks of using this source:
Large loans for major projects
Consulting services to support your plans
There are also plenty of drawbacks associated with working with large banks, such as:
High rejection rates for small business loans
Time-consuming application processes
Long loan repayment schedules
While banks can be helpful resources for florist business loans, they are not ideal for all types of flower shop owners. Banks are typically more likely to reject business owners with bad credit and poor cash flow. In addition, these lenders can take a long time to provide business owners with funding. If you need fast access to cash, this type of lender may not be the best fit for you.
Government Small Business Administration Loans
Applying for flower shop loans through the SBA can be more beneficial for many businesses. The SBA's loan program offers the following perks:
Large funding offerings that are comparable to bank loans
Special interest rates and terms
Higher approval rates than the bank would typically offer
Although working with an SBA lender can be a better alternative for small business owners, SBA florist business loans still have their own snags. Some of these include:
Long approval timelines
Strict requirements for how loans are used
Influence of government policies and practices on loan dynamics
Getting business funding from the SBA is typically a better option for small business owners than seeking them from banks. SBA loans offer a way to gain large-scale funding for business owners who might otherwise be rejected by traditional banks.
Florist Business Loans from Alternative Lenders
Getting access to business financing from an alternative lender can provide you with the following benefits:
Easy, automated application process
Speedy approval process, often in 24 hours or less
Fast access to funding
More options for business owners with bad credit
Flexible use of funds
These perks make alternative lenders the ideal source for florist business loans. If you see the need for working capital, fast access to cash from alternative lending can keep your flower business flourishing. If you have bad credit or poor cash flow, you are more likely to receive a small business loan from alternative lenders than from banks and the SBA.
There are, however, some negative sides of getting flower shop loans from an alternative lender. Here are some consequences you might experience when working with one:
Limited size of the loan
Potentially a higher cost
QuickBridge offers florist business loans that is smarter for your flower shop. We work to understand your needs and determine what type of small business loan can best meet your priorities. Our small business loans offer the cash you need now with a short payoff term, so you aren't saddled with years of debt. You use the funds, pay off the loan, and then come back to us if and when you are ready for more small business funding for our next project. This means you can reap the benefits of a large-scale loan without the difficult lending process of working with a traditional bank.
Small Business Loans for Florists
At QuickBridge, we work directly with you to figure out what types of florist business loans are best suited to your organization. Here are some ways you can use your financing to help grow your business:
Inventory Financing
If you want to add more flower varieties to your retail offerings, you might invest in retail inventory financing. This form of florist business financing can allow you to buy items in bulk, expand your collection, and stock up for certain times of the year in which flowers are in high demand, such as Mother's Day and Valentine's Day. Wedding season, which takes place in the late spring and early summer, may also prompt you to stock up on flowers. According to Wedding Wire, most couples spend between $700 and $2,500 on floral arrangements for the big day. You will be expected to meet these demands, and florist business loans can help.
Business Expansion Loans
If you'd like to grow your brick and mortar location, make use of QuickBridge's business expansion financing. We can help you open up new retail locations and pay for renovations on your current florist space.
Marketing Loans
You can use the funding from a florist business loan to finance local advertising initiatives and create a buzz surrounding your business. You could also use this financing to hire a marketing or social media manager to help drive campaigns. The SBA suggested that small businesses with revenues less than $5 million should put 7 to 8 percent of their earnings toward marketing tactics, split between promotion and brand development.
Unsecured Business Loans
If you need quick access to cash to pay off a debt, cover a gap in your finances, or cover upfront product expenses, you may benefit from unsecured business loans. QuickBridge offers speedy access to financing so you can pay off any unpaid costs sooner rather than later.
Short-Term Financing
Business owners working in the retail space can use QuickBridge's versatile short-term financing options. Rather than committing to long-term financing options, which are repaid over a long period of time, you may want to gain access to florist business loans with a shorter repayment period.
When you're ready to arrange your business for success, QuickBridge can help you grow your florist business. We will work with you directly to find the right florist business loans to meet your needs and make sure you receive funding as quickly as possible. Don't let bad credit or poor cash flow keep you from improving your business. Contact us today to get the right small business loan for your financial needs.
Excellent
Based on 390 Reviews
Jul 06
Had a great experience!!!
This additional capital was exactly what I needed to help with unexpected expenditures. I would definitely recommend QuickBridge to a friend!
Jan Banks
Jun 14
Darryl Strayhorn is awesome
He is always just a phone call away to get funds quickly. I consider him part of my team for my business. QuickBridge For The Win!
Noah Burkham
May 19
Rey made this very simple
I am excited about moving forward and the possibility of access to more capital this year if and when needed. I am grateful.
Roger Caatro
Jun 05
Quickbridge has been a valued…
Quickbridge has been a valued contributor to the success of our company. Providing timely support fueling company growth.
Glenn Stach