Retail Business Inventory Financing for Merchants
Find Out How Much Cash Your Business Could Receive

Stocking Up Merchandise for Your Brick and Mortar or e-Commerce Store
If you manage products and maintain a large inventory for a retail store, having cash at hand is a necessity. Meeting the demands of your customers is essential to your business's reputation and profitability. With retail business inventory financing from QuickBridge, companies can gain access to the working capital they need to buy larger inventory supplies. This is especially true for those retailers that are experiencing fast growth within a niche sector.
What is Retail Inventory Financing?
Retail business inventory financing is a way for businesses to utilize a cash loan in order to purchase inventory supplies in bulk. Through retail inventory financing, you are able to take advantage of discounts on large inventory purchases that would be otherwise difficult to pay for. Additionally, retail business inventory financing helps free up your cash flow to meet growing payroll and seasonal hiring needs.
Who Can Use Retail Business Inventory Financing?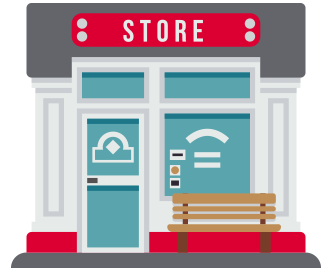 Obtaining retail business inventory financing is beneficial for small-to-medium-sized retail stores who need financial support to acquire and increase their regular inventory supply of products. This includes businesses like:
Product Retailers.
Distributors.
E-commerce businesses.
Seasonal businesses.
Retail business inventory financing loans are ideal for both e-commerce merchants and brick-and-mortar stores. Smart retail stores track their customer's buying habits to ensure popular merchandise remain in stock. This is crucial during peak holiday seasons, when running low on merchandise can heavily impact a retailer's sales.
Businesses that generate revenue mainly through selling a product would profit from retail business inventory financing. However, those businesses that have been around for less than a year, may find it difficult to get this form of working capital financing.
Benefits of Small Business Inventory Loans
What's the main perk of retail inventory financing? Stabilized cash flow. As sale cycles fluctuate, so does your businesses revenue. As a result, you may lose inventory, be unable to pay your bills, or be forced to hold off on expansion. Inventory loans give you the cash you need to keep the shelves stocked and your business on the right track.
Inventory loans can be a very profitable option for retail small business owners. Access to retail business inventory financing would increase your purchasing power, allowing you to make smarter, more cost-effective inventory purchasing decisions.
Why Choose QuickBridge for Inventory Loans?
  Simple application process
  Business loans of up to $500K
  Receive funds within days
  No hidden fees
  Early payoff discounts
  Flexible loan term options