Receivables Financing for Small Business
Find Out How Much Cash Your Business Could Receive

Boost Cash Flow with Receivables Financing
Many small businesses rely on the timely payment of customer invoices - or receivables - to maintain cash flow and cover expenses. But given that nearly 60% of business invoices are paid late, it's no surprise that small businesses sometimes need to pursue other financing options to keep operations running smoothly.
For those companies with short term cash flow deficiencies due to unpaid invoices, receivables financing can offer a fast and easy short term business funding solution. To learn about receivables financing and other small business financing options for you, apply now and speak to one of our Funding Specialists.
Advantages of Receivables Financing
For small businesses in need of short term financing to cover cash flow shortages or gaps, receivables financing offers a fast and easy solution. Particularly for businesses with poor or unestablished credit who need funding fast, but may not be able to qualify for a traditional loan.
RECEIVABLES FINANCING - PROS: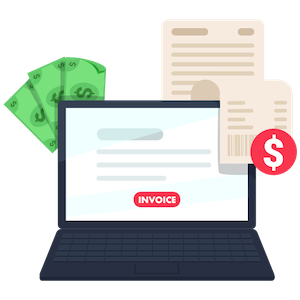 No more waiting for B2B customers to pay – immediately frees up cash flow.
Easy to qualify - approval based largely on credit of customer, not business owner.
Invoices act as collateral, so no other collateral is required.
You decide how much to finance, and fund only what you need.
Fast and easy application process – get funding in a matter of days.
No need to reapply every time cash is needed for invoices.
Continue to collect unpaid invoices directly from customers.
Is Receivables Financing Right for Your Business?
If your company regularly invoices business customers and commonly experiences cash flow shortages or gaps, you might be a good candidate for receivables financing. Small businesses can use receivables financing to help with some of the following challenges:
Meeting short term cash flow shortages
Covering seasonal demands
Paying suppliers or employees
Purchasing inventory
Investing in business expansion
Making improvements or reinvesting in the business
Paying regular bills and other recurring expenses
Why Choose QuickBridge for Receivables Financing?
QuickBridge provides fast and easy
working capital solutions
, including receivables financing. We have helped thousands of small businesses across the U.S. obtain fast funding.
  Simple application process
  Business loans of up to $500K
  Receive funds within days
  No hidden fees
  Early payoff discounts
  Flexible loan term options
Frequently Asked Questions: Receivables Financing
Is receivables financing the same as a loan?
Receivables financing allows companies to receive early payment on their outstanding invoices, with lenders using these invoices, or receivables, as collateral. A loan, on the other hand, typically requires tangible assets as collateral, such as inventory or property.
Is receivables financing right for my business?
If your business is faced with cash flow challenges and unpaid invoices from creditworthy customers, receivables financing can be a fast and straightforward way to get short term capital. Learn more about whether receivables financing is a good choice for your business by providing us with additional information
here.
Does my business qualify for receivables funding?
Qualifying for receivables financing depends largely on the strength of the invoices you're using to secure funding. Lenders typically prefer a steady flow of quality invoices over perfect credit or a flawless financial history. QuickBridge specializes in finding
working capital solutions
for small business owners who have less than perfect credit scores, and we can provide you with a credit decision in minutes.
How do I apply for receivables financing?
You can quickly and easily apply for receivables financing by filling out an application with basic financial information about your business and your receivable. Apply for receivables financing from QuickBridge
here
.
Can I still get receivables financing if I have bad credit?
Yes. Receivable financing is ideal for small businesses who may have a poor credit score, but a steady flow of receivables from stable business customers. Lenders offering receivables financing will be more interested in the quality of your invoices than in your financial history.