Understanding How Daily Payment Loans Work
Find Out How Much Cash Your Business Could Receive

Go with the (Cash) Flow with Daily Payment Business Loans
As a business owner, a fair share of unexpected expenses have surely popped up in your everyday operations. Things happen out of the blue all the time, both in business and life. That's where daily payment business loans can help. This type of financing can support your day-to-day organizational needs to keep things running smoothly.
If you're interested in getting quick access to cash to support your small business, consider looking into daily payment business loans from an alternative lender, like QuickBridge. Here's all you need to know about these types of small business loans.
What Are Daily Payment Business Loans?
Before investing in daily payment business loans, it's a good idea to get a full understanding of what they are. These types of short-term financing give small businesses the quick access to cash they need when dealing with unexpected expenses. Daily payment business loans usually have short terms, typically anywhere between three and 18 months. With this funding, business owners make a small payment every single day until the loan is paid off. This unique repayment structure allows for the quick turnaround rates of these loans.
Even though paying back a lender every single day sounds like a lot, it shouldn't be a problem for businesses with a steady cash flow. And nowadays, because businesses can make payments electronically, daily payment business loans are becoming a common practice. According to Nacha, the administrator of the ACH Network, an electronic payment system, ACH volume reached 30 billion payments in 2022.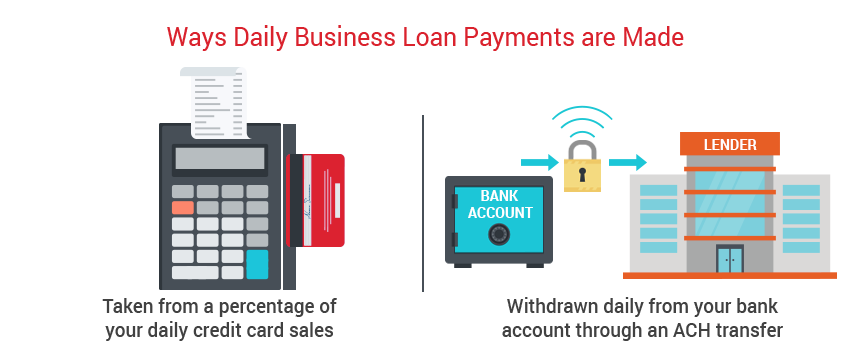 Are Daily Payments the Right Loan Type for Your Business?
Daily payment business loans are often a good fit for small businesses when they come across immediate expenses. For example, let's consider a car wash business. When one of the major parts of the car wash breaks, the business owner may need to shut down operations for a period of time while getting the money to replace or fix this feature. Daily payment business loans offer the quick cash needed to keep things moving. With this financing, the carwash business owner can get fast access to capital, which they can put toward repairs and replacements. That means instead of closing down their business for weeks, they can be back up and running in just a few days. In this instance, daily payment business loans prevent the car wash owner from missing out on profits and demand.
Why else do daily payment business loans work well for plenty of small business owners? With this financing, you'll need to pay off this loan every day over a course of time, typically 12 months. The small daily payments are doable for businesses working in industries that generate cash flow every day, such as restaurants, retailers, and – to bring it full circle car washes.
Choose QuickBridge for Your Small Business Loan Solutions
  Simple application process
  Business loans of up to $500K
  Receive funds within days
  No hidden fees
  Early payoff discounts
  Flexible loan term options
Understanding Your Loan Options
When you've decided that it's the right time to secure daily payment business loans, you might be wondering how to get them. There are many lenders that provide daily payment business financing, but the two major sources of these loans are traditional banks and alternative lenders.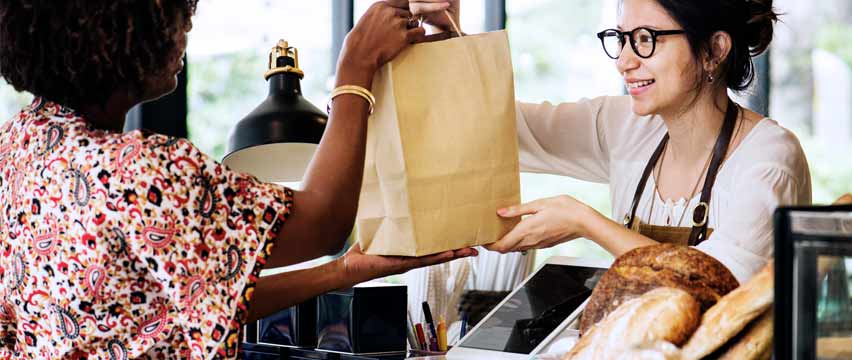 Small Business Loans from Traditional Banks
When you need a large sum of money to keep business running as usual, you might think it's the best fit to turn to a traditional bank for financing. Banks are known for providing large-scale loans that businesses can repay over an extended period of time. Another reason why you might think to turn to a traditional bank is because they provide loans that are backed by the Small Business Administration. Because the SBA insures these types of loans, banks are taking on less of a risk when lending money to small businesses.
However, working with traditional banks isn't the right choice when you need daily payment business loans. One major reason they may not work for you is the fact that they have long, complex application processes. This can be a problem when you're facing an unexpected expense that needs to be paid off quickly. Even when you need access to cash right away, you might have to wait for several weeks to get a loan supported by a bank and/or the SBA.
Another reason why daily payment business loans from banks might not be ideal is because they are difficult to qualify for. If your credit score isn't great or you've dealt with debt in the past, you may face high chances of rejection from traditional banks. That means after waiting weeks to find out if you qualify for these loans, you might not even end up securing the cash you need.
Daily Payment Business Loans from Alternative Lenders
Instead of turning to banks for daily payment business loans, many small business owners are looking into alternative lending sources. These types of lenders provide fast, short-term loans with a less arduous application process than traditional banks. Alternative lenders can approve you for daily payment business loans within 24 hours, so you'll get quick access to capital to meet any immediate needs. Also, alternative lenders are less strict when deciding which businesses to give loans to. They are much more forgiving of past debt and average to poor credit scores than traditional banks.
In addition to providing daily payment business loans, alternative lenders offer financing that can be paid back on a weekly basis. They can be the right choice for businesses that aren't quite ready to take on a daily payment schedule but want smaller payments than those they would have in a monthly repayment schedule. This is much more flexible for small business owners than the strict loan terms offered by bank- and SBA-backed loans.
One thing you'll need to be aware of when you're applying for daily payment business loans is that not all alternative lenders are right for you. Many online lenders have automated, impersonal processes, without giving you the business expertise you need. That's why you should work with a trusted small business lender who can work with you to meet your specific business goals.