Improving Through Business Renovation Financing
Find Out How Much Cash Your Business Could Receive

Maximize the Potential of Your Growing Business
With a business renovation financing plan that fits your organization's needs, it's possible to accomplish a host of important jobs that you may have been putting off due to a lack of available financial resources. Renovation financing can help you accommodate new orders, purchase new equipment, or update your retail business space. A business improvement loan from QuickBridge can help you keep up with your business's growth.
Using Business Renovation Financing to Your Advantage
Expanding or renovating office space can help to accommodate your growth and give your business a much-needed facelift. Unfortunately, renovation requires a great deal of dedicated planning time and money. When it comes time for a business to execute its expansion plans, the business might need to temporarily close or otherwise withstand a slight dip revenue. This could possibly lead to budget overages or missed deadlines.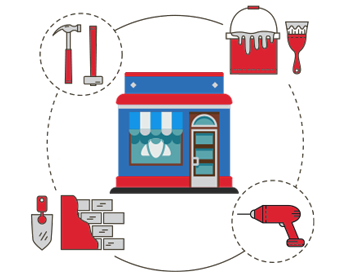 However, having access to a business renovation financing plan effectively eliminates many of these cash problems before they appear. With flexible short-term funding, small business owners can adjust and expense for unanticipated work. The ultimate result is a business renovation project that finishes on time and adds real value to the company.
A few business improvement projects that can add value include:
Renovating a retail location or dining space.
Upgrading equipment for more efficient operations.
Conducting preventive maintenance that will reduce long-term costs.
Financing the Right Tools and Talent for the Job
Small business renovation loans ensure your company has access to the best construction contractors and workers to complete the task at hand. Business renovation financing eliminates the risk of being forced to pinch pennies and end up with a subpar remodel of your store or office. At the same time, supplementary working capital can help fill in financial gaps when additional time or work on a certain project is required.
Upgrading your retail store, warehouse, or office is just the beginning. Speak with a QuickBridge financial representative to learn how the right small business loan can guide your business to success.
Choose QuickBridge for Financing Your Business Remodel
  Simple application process
  Business loans of up to $500K
  Receive funds within days
  No hidden fees
  Early payoff discounts
  Flexible loan term options