Getting Funding Through No Collateral Business Loans
Find Out How Much Cash Your Business Could Receive

No Collateral Business Loans Can be a Lower Risk Option
Turning to no collateral business loans can give you a major boost. There are times when you'll need cash, but don't have many assets to use. You don't want to risk your personal assets to grow your business either. No collateral business loans from alternative lenders give you funding without the risk.
Moving Away from Traditional Small Business Loans
Business loans are often backed by collateral. It's really simple in practice. Banks prefer to know that, in the event you can't pay a loan back, they have a way to collect value as security against the loan. So if you can't keep up with payments, the bank will collect the collateral. A no collateral business loan avoids this process, thereby protecting your assets.
Banks will typically prefer valuable assets to secure a loan. If your business uses a lot of special equipment or has real estate assets, then you can put those items up to back the loan. But many small businesses are built around services, not assets. Even in sectors like construction or landscaping, the actual equipment used isn't valuable enough to secure a loan. In these cases, small business owners often use personal assets – such as their homes – to secure the loan. This gives banks security but can be risky for the small business owner. No collateral business loans give you another option.
If you're looking for a small business loan and don't want to risk your house or other personal assets, no collateral business loans may be right for you. Let's explore how they work.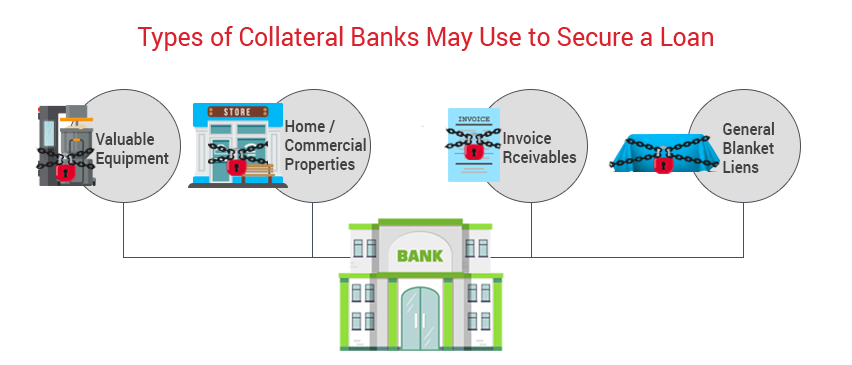 No Collateral Business Loans Reduce Your Risk
Lenders depend on security. If they take the risk of getting you money, then they need to protect themselves. This is usually done in a few ways. Before you get a loan, lenders look at your credit score. They use this data to assess if you have a history of handling credit well. From there, they look at bank statements and info on assets you own to figure out how much you are worth.
With this information in place, lenders figure out how much risk comes with offering you a loan. If the risk is minimal, you can expect lower interest rates. In addition, you may not need much collateral because the lender believes it won't need to do much to get value from the loan. But if risk is normal or high, be ready to jump through some hoops.
Most small businesses present some risk for lenders. Because of this, banks typically look to secure a loan with collateral. Whether your business is risky because of a poor credit history or due to some cash flow issues doesn't really matter. Small businesses often carry enough risk that traditional lenders seek collateral to protect themselves.
As a small business owner, you may want to seek a no collateral business loan to protect yourself. Funding a loan is risky for banks. Getting a loan can be risky for small businesses. What if your cash flow changes and you can't pay it back? Do you have a plan if a life emergency forces you to go out of business? A lot of things can come up, making it difficult to pay back a loan. If that loan is secured with collateral that is valuable to you, that's a problem. A business issue only escalates if you lose the collateral behind a loan. Small business loans without collateral help you limit the risk of the funding. They also give you peace of mind that you aren't going to lose your house or other personal assets if a business plan falls flat.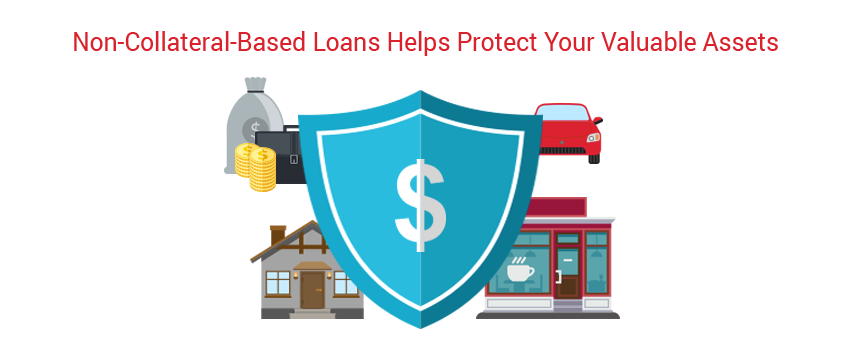 Why Non-Collateral-Based Loans Are an Option
If no collateral business loans reduce risk for small businesses, but lenders need to secure loans to protect themselves, then how are unsecured small business loans even an option? A Huffington Post report on the pros and cons of no collateral type loans summed up the issue. According to the article, the pros of the loan type are great. As we mentioned earlier, the loans protect small business owners. However, the cons cannot be ignored. Lenders need to avoid excess risk. So, if a loan doesn't have collateral, the risk needs to be balanced by something else.
The Huffington Post explained that most lenders use high rates and larger payments to make the loan valuable. In most cases, a no collateral business loan will also be relatively small and come with a higher total cost than a secured loan.
In essence, lenders either limit the scope of a loan or make it more expensive if there isn't collateral. This makes an unsecured loan an option, but that doesn't mean a no collateral business loan is always the right option. Let's look at some scenarios where this type of funding makes sense:
Equipment Financing
Equipment is among the most common types of collateral used to back small business loans. The idea is simple: if you have lots of specialized equipment, the lender can use those assets to secure against risk. But if you are looking for a loan to purchase equipment, then what do you do? Chances are your existing equipment isn't enough if you need more items to get the job done. It's also risky to secure a loan with mission-critical machines or tools because losing those assets would hurt you too much in the long run.
These factors make no collateral business loans a great fit for equipment financing. Many small businesses need equipment – service vans, specialty tools, etc. – that is available at a low enough cost to fit the small-scale loan size. This can make equipment financing a win-win for no collateral business loans. The lender is providing a small enough amount of funding to avoid serious risk. The business is getting vital equipment without putting its other assets at risk.
Bad Credit Loans
Getting a loan with bad credit can be tough. It is often even more difficult if your credit situation makes you wary of offering assets to secure the loan. Bad credit loans use your business's cash flow to figure out how much funding you can afford. This makes the funding option a natural fit when you're looking for a no collateral business loan. The costs can add up if you are using these often, but to solve urgent problems, they can be a smart option.
Working Capital
Sometimes your business just needs cash. An in many cases, you don't want to put your most valuable assets up to secure a loan when you simply need quick cash. Whether it's $100,000 to buy supplies for a major project or $25,000 to cover payroll during the offseason in your industry, the right loan is vital. Lenders that can get you funding quickly are hugely valuable. When those lenders also offer a way to get that injection of cash without collateral, the stars align. In practice, no collateral business loans are ideal when you need a small amount of quick cash, with as little risk as possible. An unsecured working capital loan is a prime example of this type of funding.
Choose QuickBridge for Your Small Business Loan Solutions
  Simple application process
  Business loans of up to $500K
  Receive funds within days
  No hidden fees
  Early payoff discounts
  Flexible loan term options
Alternative Lenders and No Collateral Business Loans
Alternative lenders, like QuickBridge, bring a new approach to lending. Like banks, we are concerned about risk. But we focus on a wider range of data sources when assessing customers for loans. What's more, we do this through digital databases and highly automated analytics systems. Instead of documenting your whole life and giving it to a bank, you simply fill out a form. Once we have that form, our software gets to work. This creates a situation in which:
Loan applications are processed within 24 hours.
Funding is usually delivered a day or so after the application is approved.
A wider range of loan types are readily available.
The first two points make borrowing money from lenders like QuickBridge easier. The last point makes us a great fit for no collateral business loans. Since we use more data to assess your loan application, we can also get more creative about managing risk. Our consulting team can optimize the size of your loan for your project, for example. This brings the loan size or risk profile down to a point where the loan doesn't need to be secured. We also provide flexibility in how you can use a loan. This results in a situation where unsecured working capital loans that can apply for any need become an option.
A traditional lender usually seeks highly structured loans that limit how you can use funds. An alternative lender provides flexible financing options so you can grow and respond to the unique needs of your business. All of this points to QuickBridge as your ideal partner for no collateral business loans. Our flexible lending options mean we can find ways to get you the funds you need, when you need them, without collateral. At the same time, the wide range of uses for our loans ensures you can apply the funding however you need it. Throw in quick application responses, and you have a recipe for strategic funding that drives small business growth.
Contact us today to learn more about no collateral business loans and how we can help you get the funds you need.