Polish Your Business with Nail Salon Financing
Find Out How Much Cash Your Business Could Receive

Get the Right Loan for Your Evolving Business
Obtaining nail salon financing can put your manicure business in a strong position for growth. The spa and beauty salon industries are expanding. And the right small business loan can help you keep up with the demand for new services to set your manicure business apart.
Securing nail salon financing can make a big difference for your business. However, the key is to find a loan that matches your unique needs. As the industry continues to rapidly grow, so does the competition. Nevertheless, the right loan will give you not only the capital you need to pursue your goals, but also flexibility to adjust as your needs change.
Nail Salon Financing Options
There are many nail salon loan options out there, but most fall into one of three categories.
1. Bank Loans
When hoping to secure nail salon financing, many nail shop owners seek out traditional bank loans. Going to a bank offers a few advantages. For instance, a bank can:
Offer large loans for major projects, such as a remodel of your salon.
Provide consulting services to support your financing program.
Allow flexibility on how the loan is used.
While these benefits are nice, obtaining capital from a traditional bank also comes with some challenges. These include:
Complex and time-consuming application processes.
Long repayment schedules that can present a significant financial burden.
High rejection rates for small businesses.
Ultimately, a bank can be a good option for nail salon financing. However, it might not be the right choice if you need cash fast or have past credit issues. Banks' service models are not designed for the immediate needs of small businesses. And their strict lending requirements often keep business owners from getting a loan at all.
2. Small Business Administration Loans
Although their loans can be tough to qualify for, there are many advantages to securing nail salon financing through the SBA. The SBA's loan program can:
Feature relatively large loans, comparable to typical bank loans.
Include special interest rates and terms that are favorable to borrowers.
Lend capital to newly established businesses.
These advantages do come with some limitations. Key concerns for SBA loans include:
Relatively long approval timelines compared to alternative lenders.
Reliance on government policies and practices that influence the dynamics of your loan.
Fairly stringent requirements for how funds are used.
Working with the SBA is a popular option for small business loans, and with good reason. In many ways, the SBA is a natural fit when you want a bank-scale loan, but have challenges qualifying with a traditional lender. However, for some the SBA may not be the right solution for nail salon financing. It can be difficult to work with the SBA if you need the money fast or have a poor credit history.
3. Alternative Lending for Nail Salon Financing
Small business owners who are having trouble accessing nail salon loans through traditional banks and the SBA can turn to alternative lenders for financing. Alternative lenders excel in:
Processing loan applications quickly, often in 24 hours or less.
Providing funding with similar speed.
Offering small, short-term loans that are accessible if you have bad credit.
Allowing for flexible use of funds once they are delivered.
These advantages make alternative lenders ideal for small business owners in need of immediate capital. For example, if you notice an opportunity to drive business by installing new chairs or carrying a new product line, you can work with an alternative lender to quickly secure nail salon financing to buy these new items.
Not all alternative lenders are created equal, and there are some limitations to the model. A few potential downsides of working with alternative lenders include:
A potentially impersonal lending process, that some find to be too automated.
Limited scale in the size of the loan.
At QuickBridge, we work to counter these limitations by taking a relational approach to lending. Our lending experts take the time to get to know your business and provide the right-sized loan for your needs. Plus, there are no hidden fees. You deserve transparency so we make sure you fully understand the terms and conditions of the loan. We pride ourselves on exceptional customer service and honesty.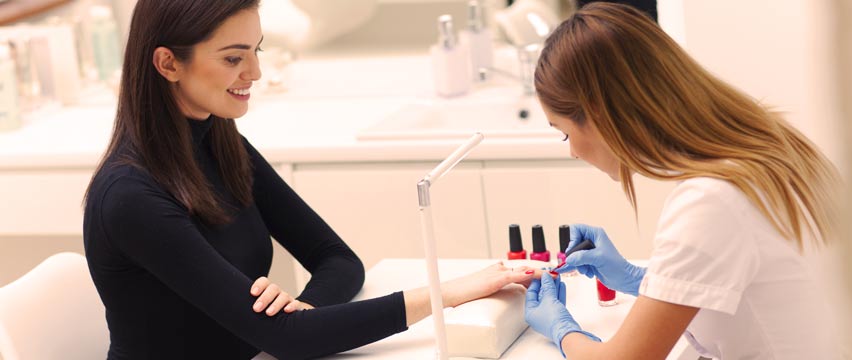 Types of Small Business Loan Options for Nail Salons
As an alternative lender, QuickBridge offers access to a variety of small business loans that can be useful for nail salon financing. A few of the best business loan options include:
Business Expansion Loans
These loans are great when you experience a sudden spike in customers or a similar opportunity to grow your business. Small business expansion loans from QuickBridge allow you to ramp up your growth plans fast.
Inventory Financing
Acquiring inventory financing is ideal if you want to build up the retail side of your business, selling polish and nail care directly to customers. It can also help you keep critical supplies in stock to ensure daily operations are not interrupted, and you can meet customer demands. This is essential to your business's reputation and profitability. Securing retail inventory financing can help whether you want to expand your product offerings or take advantage of a bulk inventory purchase discount.
Marketing Loans
Without customers, you don't have a business. Advertising and marketing are critical in the beauty salon industry. However, local advertising often comes at a high cost. A marketing loan can give you funds to launch a marketing and advertising campaign.
Working Capital Financing
A working capital loan is a broad source of nail salon financing that can be used for virtually any business need at any time. You can use working capital towards employee payroll, to deal with sudden low cash flow, or for other everyday costs.
According to Zion Market Research, the global beauty salon and spa market is set to expand at a compound annual growth rate of nearly 6 percent from 2018 through 2024. Now's the time to get moving if you want to push your business forward. QuickBridge can help you take advantage of the nail salon financing opportunities at your disposal. We can help you identify the right loan for your needs and ensure you get access to funds quickly. Don't let funding limitations hold your business back. Contact us today to see how we can help your business thrive.
Excellent
Based on 390 Reviews
Jul 06
Had a great experience!!!
This additional capital was exactly what I needed to help with unexpected expenditures. I would definitely recommend QuickBridge to a friend!
Jan Banks
Jun 14
Darryl Strayhorn is awesome
He is always just a phone call away to get funds quickly. I consider him part of my team for my business. QuickBridge For The Win!
Noah Burkham
May 19
Rey made this very simple
I am excited about moving forward and the possibility of access to more capital this year if and when needed. I am grateful.
Roger Caatro
Jun 05
Quickbridge has been a valued…
Quickbridge has been a valued contributor to the success of our company. Providing timely support fueling company growth.
Glenn Stach