Let Your Business Shine with Jewelry Store Financing
Find Out How Much Cash Your Business Could Receive

Jewelry Store Business Loans Help You Polish Your Finances
Owning and operating a jewelry store can be costly and challenging, particularly if you handle precious stones and fine metals. Perhaps your business needs a pick-me-up to attract new customers and increase revenue. Access to funding through jewelry store business loans can take your business from dull to dazzling.
As a business owner in the jewelry industry, you understand the joys of your profession. You have designed and sold anniversary, birthday, Valentine's Day, Mother's Day, and just-because gifts. You've helped individuals find the perfect engagement ring for their partner. Maybe you've engraved a couple's wedding bands. If you want to grow your business and satisfy more customers, consider investing in jewelry business financing.
The State of the Jewelry Industry
The U.S. Census cited a rise in jewelry sales from 2017 to 2018. Jewelry sales for the month of October rose to $2.9 billion in 2018. This amount represents a $116 million increase from the revenue produced in October 2017.
With the drastic increase in online shopping over the last few years, many retail businesses have seen a decline in sales. However, while the number of online sellers of fine jewelry has increased, brick-and-mortar businesses continue to thrive. Many consumers prefer to shop for jewelry in store, so they can see the merchandise and seek help from sales associates.
There is another area that sets physical businesses apart from online jewelers, repair and maintenance. When customers need to have their watches fixed, wedding rings tightened, or diamonds replaced, they are more likely to visit a nearby jeweler than to send the piece in the mail. Although the jewelry industry has taken a few hits from easily accessible online sellers, many small jewelers that offer these services in store remain profitable. Jewelry store business loans can be used to shift your retail and marketing efforts to attract consumers shopping online.
Stock Your Inventory with Jewelry Store Business Loans
The most important items you spend money on when operating your jewelry store are your products. With an increase in industry competition, you'll need to make sure your inventory is reflective of current trends. For example, you may want to purchase certain precious stones through wholesale traders in order to stock up on popular items. However, if you have too much inventory on hand, you may waste money on jewelry products that might not sell. Still, if you do not order enough, your customers may not have enough assorted jewelry designs to choose from. It's also important to maintain the quality of your products. Keeping your quality in check increases retention and produces loyal customers.
With jewelry store business loans, you will have access to inventory financing. You can use this jewelry business financing to purchase products or expand your offerings. You may also decide to use this financing to invest in an inventory management system that tracks and organizes your goods. These methods can help you locate your best-selling items, so you can reorder them on a more recurring basis than the rest of your stock.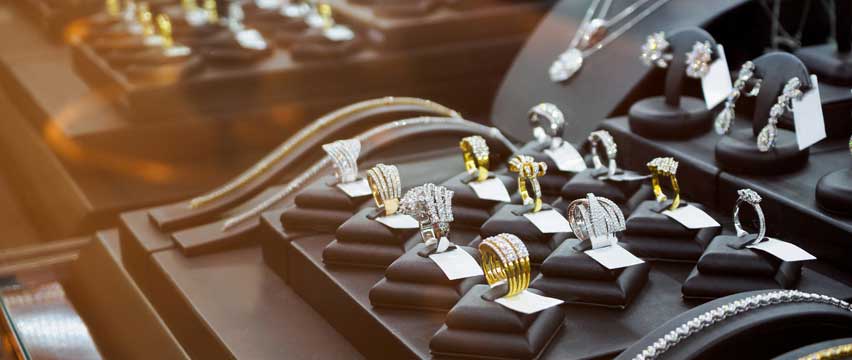 Stay Equipped with Jewelry Store Business Loans
Whether you personally create your jewelry or buy pieces from an external source, you need equipment to keep your business operations running smoothly. Maybe the primary service you provide at your store is jewelry and watch repair. If that's the case, you will need tools that help restore these products to their peak condition. Jewelry store business loans offer you the flexibility to purchase and repair essential equipment.
Some common types of equipment you should have in your jewelry store include:
Specialized hand tools
Workbenches
Welding products
Engraving and polishing equipment
Display cases
Showroom lighting
Security and alarm systems
If you already have all the tools you need, you might consider updating some of your materials. If you continue using outdated tools to create or repair jewelry, you could damage delicate pieces. Not only can this impact productivity, but it can also affect your financial bottom line. Investing in security equipment is crucial. When you do not upgrade your store's security system, your valuable items become vulnerable to thieves. You can use jewelry store business loans to finance the equipment you need for your jewelry store to be a success.
Expand Your Retail Space with Jewelry Business Financing
If your sales volumes are rising faster than you had anticipated and you no longer have enough space to stock your inventory, you can make use of business expansion financing. With jewelry store business loans, you can increase your retail space to keep up with your growing customer base. You could build onto your current lot or expand to another area. By expanding your retail space, you can target and serve more customers.
Develop a Compelling Marketing Campaign
One of the most effective ways to attract new customers to your jewelry store is by revamping your marketing strategies. You should define your brand and communicate with your consumers using a distinct voice. If you make your own jewelry, you will want your brand message to convey the care that's put into each piece. Meanwhile, if you sell high-end jewelry, your marketing efforts should stress why your pieces are worth the higher price tag.
Unsure of where to start? Promote your business through ads on Facebook, Yelp, Twitter, and Instagram. It may be beneficial to use traditional marketing methods, including newspaper ads and direct mailings. If you don't have time to create a brand presence on your own, you can use marketing business loans to hire a marketing consultant. These professionals understand how to create an online presence on social media, utilize search engine optimization, and leverage seasonality.
As the owner of a jewelry store, you have several financing options. However, not every option is the right choice for your specific needs. At QuickBridge, we understand the hard work it takes to own a jewelry store and the expenses that come with it. We offer jewelry store business loans with fast approval rates and funding within 24 hours. Our small business loans come with flexible terms and conditions and we won't turn you down for having less-than-stellar credit.
Let us help you stand apart from the competition and build a strong foundation for your business. Contact us today to get started.
Excellent
Based on 390 Reviews
Jul 06
Had a great experience!!!
This additional capital was exactly what I needed to help with unexpected expenditures. I would definitely recommend QuickBridge to a friend!
Jan Banks
Jun 14
Darryl Strayhorn is awesome
He is always just a phone call away to get funds quickly. I consider him part of my team for my business. QuickBridge For The Win!
Noah Burkham
May 19
Rey made this very simple
I am excited about moving forward and the possibility of access to more capital this year if and when needed. I am grateful.
Roger Caatro
Jun 05
Quickbridge has been a valued…
Quickbridge has been a valued contributor to the success of our company. Providing timely support fueling company growth.
Glenn Stach