Dermatology Business Loans for Specialized Practices
Find Out How Much Cash Your Business Could Receive
Dermatologist Financing for Small Business Owners
Dermatology business loans can help you treat your business just as you treat your customers, with care and clear solutions. You can continue to make a difference in your community by providing high quality care with access to financing for dermatologist practices. Finding the right source for small business loans can make the difference in growing your healthcare practice and raising your patient base.
The Right Source for Dermatology Business Loans
If you have never applied for a small business loan before, you might have a lot of questions. Where can I find small business loans? How can I spend this funding? What should I do to qualify for dermatology business loans?
There are three major types of funding for small businesses. The first two, banks and the Small Business Administration, typically offer large, long-term loans. But banks have tough and long application processes, as well as high rejection rates. Furthermore, the SBA has strict rules on how you can use your loans. Both options could have you waiting weeks to get access to your dermatology business loan.
When you don't have time to wait, you might consider alternative lending. This resource provides small business owners with quick access to cash, as well as a fast application process. Also, alternative lenders are more forgiving of unsteady cash flow and bad credit than other major lenders. Newer business owners or those with a spotty credit history can often still get dermatology business loans through online lenders.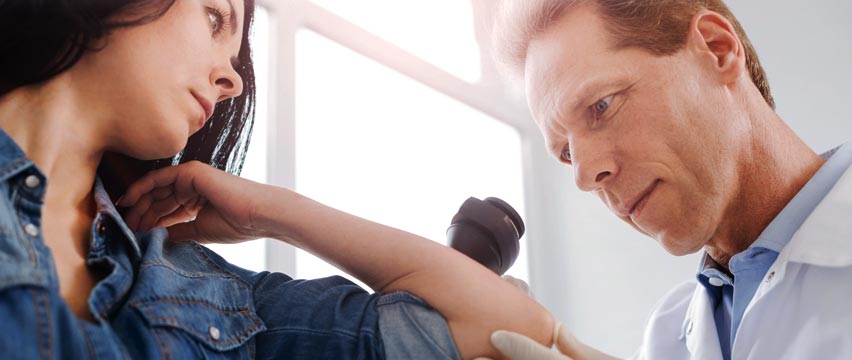 How Dermatology Business Loans Can Help Grow Your Practice
QuickBridge offers small business loans to help you build an unblemished practice. Some of the best ways you can use your dermatology business loans include:
Business Expansion Loans
When you'd like to attract more customers, a business expansion loan provides capital to help you grow quickly. Dermatology business loans can be used to purchase or lease a new location. This can bring in new clients and increase business from existing clients who are closer to the new practice.
Inventory Financing
As a dermatologist, you work with clients to improve the health of their skin. In addition to recommending over-the-counter products, you might also like harder-to-find remedies. Therefore, helping clients tackle skin problems can include selling those specialty products right from your office. You can use dermatology business loans to stock up on inventory.
Equipment Loans
Not only do you need to ensure the highest care for your patients, but as a health provider, you need to comply with federal regulations. That's why equipment loans for dermatology practices can be used for more than lasers and scalpels. The best example of this is with federally-mandated electronic medical record (EMR) systems. Keeping paper records is a thing of the past. Now, most every practice has switched to EMRs, and many are looking to upgrade to Electronic Health Records (EHRs). EHRs offer a better ability to share patient records among their healthcare providers. According to an EHR in Practice report, 38% of healthcare CIOs named EHR optimization as their organization's top planned investment in the near future.
Although this software is intended to streamline and improve health care, it is costly. A study from Health Affairs found that it costs about $162,000 to implement an EHR system, plus about $85,500 for maintenance costs in the first year alone. In addition, teams can expect to spend about 611 hours training on the new system. If you don't have the cash to handle the upfront costs, dermatology business loans can help.
Marketing Loans
Physician referrals aren't the only way to acquire new patients for your dermatology practice. Local advertising can be the key to successfully attracting new clients. You can use dermatology business loans to create targeted Facebook advertising campaigns to reach new patients in your area. The funding can also cover newspaper and radio ad costs. And if you don't have time to manage this task, you might use marketing loans to hire someone who can.
Business Operating Loans
QuickBridge offers business operating loans that keep your practice running smoothly. While products like SBA loans have strict usage guidelines, our working capital can be used for multiple business purposes. We know we don't understand your business as well as you do. So why would we limit how you can spend your dermatology business loan?
Dermatology Industry Outlook
According to IBIS World, the dermatology industry's 6,000 businesses made $7 billion in the first half of 2019, and are on pace to maintain annual growth of 2.5%.
Increased awareness about the risks of skin cancer has certainly contributed to the industry's steady growth. More and more patients are seeking screenings and treatments. But even with a growing list of people to care for, dermatologists face threats to their operations. Many practices rely on federal funding from Medicare and Medicaid to help keep prices down. This same funding also makes it possible for more patients to access dermatological care. If that were to change as a result of new legislation, many dermatologist practices could see their business shrink.
On the other hand, there is a growing demand for dermatologists to perform cosmetic procedures, which are typically paid for in cash. From Botox and fillers to chemical peels and laser hair removal, women and men seek out dermatologists to help them look their best. As a result, the industry has seen impressive growth in this sector. Practitioners who wish to stay competitive could use dermatology business loans to help.
Small Business Loans Tailored for Your Dermatology Practice:
Clinic Expansion
Medical Equipment
Skin Care Product Inventory
Marketing Expenses
Unexpected Bills
& Much More ...
Dermatology business loans from an alternative lender can keep your business healthy and glowing. Working with QuickBridge allows you fast access to cash. We can help you find the right dermatology business loans for your needs. Don't let funding limitations set by traditional lenders keep your business from growing. Get in touch with us today to get the financing for dermatologist practices you need.
Excellent
Based on 359 Reviews
Apr 05
Excellent customer service
Manuel Venegas was an amazing person to interact with. Very courteous and…
Ravi Rao
Feb 09
Process was seamless
Process was seamless and every individual was incredibly professional.
Bradley Grant
Jan 09
Fast
Fast, fair, and if you get Chris Botros as your lending specialist, actually fun.
Germain Holdings Inc
Oct 16
Very professional
Very professional and the money was in my account the next day.
Tearra