Support Your Business with Concrete Service Financing
Find Out How Much Cash Your Business Could Receive

Concrete Service Loans Help Build a Successful Foundation
The concrete industry is rapidly growing, giving independent contractor businesses that specialize in concrete services plenty of opportunities. However, competition in the sector is abundant. Concrete service business loans empower you to take on growth strategies and gain a competitive edge. This is especially critical in concrete services because it is heavily reliant on the construction industry, which can be volatile. Having access to concrete service loans can provide you with a solid financial foundation in an industry where demand can go up or down quickly.
Types of Concrete Service Business Loans
Concrete service business loans can solidify your position in the sector's future landscape. The supplementary working capital can be used to purchase equipment, take advantage of immediate opportunities, and cover seasonal lull's. Here are a few loan types that are particularly beneficial:
Working Capital Financing
A working capital product is a natural fit for concrete service business loans because the loan is designed specifically for short-term, relatively small-scale funding. Because of this, the loan approval and funding process is quick and easy. A typical working capital loan will have a term of 12 months or less.
Besides the fast lending process, working capital loans are designed to be used for a wide range of purposes. In most cases, the terms for what the funding can be used for are flexible, letting you apply them to current needs. The funding from a working capital loan helps you capitalize on time-sensitive opportunities and keep your business moving forward.
Short-term Loans
Short-term business loans are versatile and helpful for a wide range of business owners, including contractors. Contractors rely on short-term business financing to smooth cash flow during peak sales months and cover emergency costs. Most of these loans are designed to be paid back in less than a year, ensuring you don't have to make a risky financial commitment to obtain funding.
Traditional loans can be overwhelming for smaller companies or for those that aren't well established. Not only are they harder to qualify for, but they are so large and complex that you need a major project or business change to justify them. This isn't helpful when you need quick access to cash. Short-term loans are a natural fit for concrete service business loans. The funds can help you launch projects, purchase new tools, and repair equipment.
Bridge Loans
Concrete service business loans structured in the form of a business bridge loan provide you with quick cash to overcome many types of financial gaps brought on by unforeseen expenses. For example, if you've budgeted for concrete material expenses but your supplier unexpectedly increases prices. Or you end up suddenly low on funds because you're waiting on a payment from a client and need to cover some expenses out of pocket.
These are shared challenges for small businesses and can be significant issues for contractors who must respond to unanticipated costs associated with large construction projects. Bridge loans offer short-term cash flow coverage for basic but essential expenses while you wait for additional funding.
Unsecured Financing
An unsecured loan is similar to bad credit financing in that the terms avoid some of the pitfalls of a traditional bank loan. Where most long-term loans rely on collateral to determine available funds, unsecured financing is not backed by assets of the company.
This structure is ideal if you're a small business contractor without many tangible assets behind your business. In the concrete business, chances are you don't have a big office or real estate that would provide collateral. You could have expensive trucks and equipment, but those assets may not be sufficient for a traditional loan. Unsecured financing is a natural fit for concrete service business loans because there's no liens place on the business and limited financial risk.
Bad Credit Loans
Imagine you just launched your own concrete business after years of working as a contractor. You have customers who are already familiar with your work and want to continue giving you their business. However, you lack the cash flow needed to cover startup costs, including purchasing materials and hiring staff. What's more, your less-than-stellar credit history has made it difficult to get approved for funding.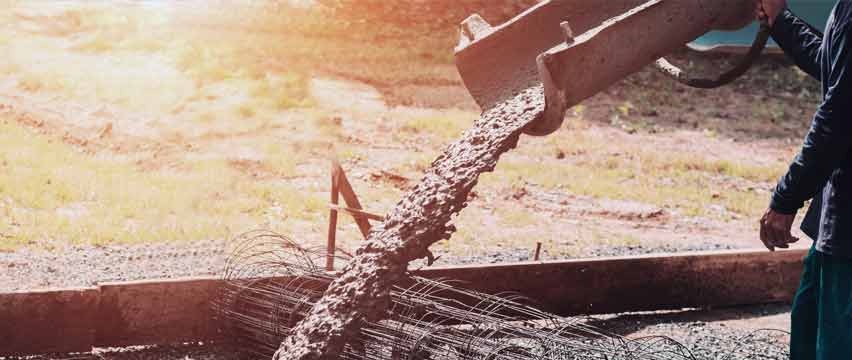 Market Conditions Making Concrete Service Business Loans Essential
Taking advantage of concrete service business loans is critical because the industry is growing, but not necessarily at an even pace. IBISWorld found that the concrete contractor industry expanded at a compound annual growth rate of 4.2 percent from 2013 to 2018. As a result, the sector is valued at approximately $44 billion. Growth is expected to continue between 2018 and 2023 but at a slower rate. While construction is increasing, high purchasing costs make it difficult to drive revenue gains.
A similar trend is underway in specialty concrete sectors. A recent report by Market Research Future found that the global decorative concrete market will rise at a forecasted CAGR of 6.2 percent through 2023. Like the broader concrete sector, new construction, particularly sustainability-focused urban projects, is creating growth opportunities. But costs in the industry are so high that many businesses may struggle to grow in this market.
QuickBridge provides easy access to the funds you need to strengthen your position in today's market. Our loans are built specifically with small businesses in mind. With quick turnaround times and flexible terms, we help you create and sustain growth. From working capital to unsecured financing, we provide access to various funding options, so you can find the right concrete service business loans for your specific needs. Contact us to get started today.
Excellent
Based on 390 Reviews
Jul 06
Had a great experience!!!
This additional capital was exactly what I needed to help with unexpected expenditures. I would definitely recommend QuickBridge to a friend!
Jan Banks
Jun 14
Darryl Strayhorn is awesome
He is always just a phone call away to get funds quickly. I consider him part of my team for my business. QuickBridge For The Win!
Noah Burkham
May 19
Rey made this very simple
I am excited about moving forward and the possibility of access to more capital this year if and when needed. I am grateful.
Roger Caatro
Jun 05
Quickbridge has been a valued…
Quickbridge has been a valued contributor to the success of our company. Providing timely support fueling company growth.
Glenn Stach