Cattle Ranch Loans: The Key to Feeding Business Growth
Find Out How Much Cash Your Business Could Receive

Use Cattle Ranch Financing to Beef Up Your Business Capital
American ranchers and farmers are responsible for supplying almost a quarter of the world's beef supply. Strategic cattle ranch financing can help guide your herd to sustainable growth that promotes financial and environmental health.
According to the U.S. Department of Agriculture, cattle ranchers have many options if they find themselves in need of financial support. Among them are loans to help individuals get their start in the industry. But what if you're established and need capital to help your business grow? This is where working capital cattle ranch financing strategies are a natural fit. Working capital from cattle ranch loans can be used to cover cash flow gaps, pay off debt, and purchase equipment.
Steer Towards Growth with Cattle Ranch Financing
According to First Research, the U.S. cattle ranching sector currently achieves an annual revenue of $80 billion. Growth opportunities are available, but competition is fierce with 915,000 operators working around the country. For big brands in the sector, value is created by taking advantage of volume purchasing and operational efficiency. However, smaller cattle ranchers must specialize if they want to stand out.
Whether you're looking to compete with some of the larger ranches in your region or develop your own niche, business operating loans used for cattle ranch financing can help. Here's how:
Cattle Financing for Expansion
Adding to your herd at a time when prices are low can create long-term value. However, costs change quickly and are influenced by a wide array of local, domestic, and international economic trends. It's easy to end up in a situation in which prices are low, but you lack the funds needed to make a purchase. Cattle ranch loans let you take advantage of market opportunities, so you can add to your herd in the most efficient way possible.
When the market changes, you can't afford to wait for an extended loan process to get the funds you need. Prices will shift again by the time you receive financing. At QuickBridge, we deliver funds within 24 hours of approval, so you can take immediate advantage of low cattle costs.
Cattle Ranch Financing for Niche Opportunities
Investing in solutions to offer specialized products, like specific types of cattle meat or alternative grazing strategies, often requires supplementary capital. Using cattle ranch loans for equipment purchases can help you invest in solutions to segregate and manage your herd. You may benefit from using working capital to purchase more cattle, invest in your facilities, or hire specialized staff. These types of loans help you create growth and sustain momentum.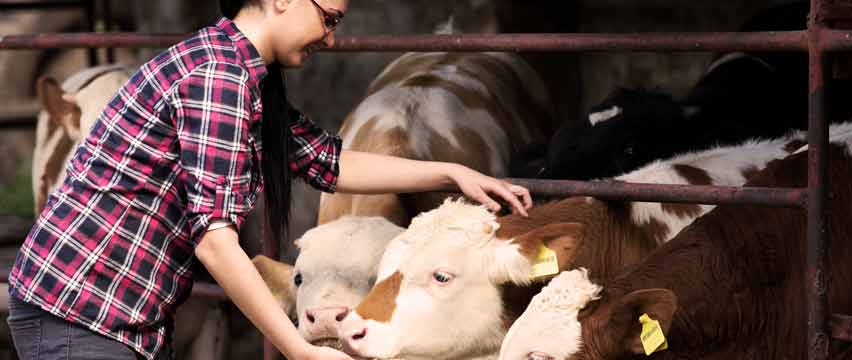 Wrangling Costs Through Technology
IT innovation can't be underestimated. Technologies used to track your herd, monitor environmental conditions, or streamline business decision-making and operations can fuel growth. But even for a small herd, the associated costs can be high. Cattle ranch financing can help you invest in technology, even in the form of unsecured loans, so that you can use modern solutions that would otherwise be exclusive to larger competitors.
Whether you're looking for surveillance drones for ranch security or GPS tracking for key assets and equipment, using modern technologies can push your business to the next level.
Cattle Ranch Financing as a Path to Sustainability
The agriculture industry is heavily dependent on the environment. Many ranchers and farmers, particularly small business owners that avoid industrial-scale ranching, put an emphasis on conservation. But public perception doesn't always support this. A Beef Magazine report highlighted how rumors about cattle herds contributing to global warming are a major threat to business. However, the news source explained that recent research debunks this myth and shows that the rising cattle population has not contributed to a related increase in greenhouse gasses.
Industry research shows that ranchers are generally concerned with conservation. A separate Beef Magazine report explained that ranchers investing in sustainability can set themselves apart from the competition.
Cattle ranch financing can help you act on new sustainability strategies. Additionally, working capital can be used to fund marketing programs and similar initiatives so you can convert your conservation efforts into value opportunities.
Cattle ranch financing can be used for a variety of business purposes, from expanding a large-scale ranch to transitioning a conventional cattle operation into an organic one. When deciding on cattle ranch financing from a lender, there are a few things to consider. At QuickBridge, we work hard to find you the right small business loan for your specific needs. Our lending processes is fast and customer-focused. We take the time to understand your goals and the industry challenges impacting your operations. Contact us today to get started.
Excellent
Based on 390 Reviews
Jul 06
Had a great experience!!!
This additional capital was exactly what I needed to help with unexpected expenditures. I would definitely recommend QuickBridge to a friend!
Jan Banks
Jun 14
Darryl Strayhorn is awesome
He is always just a phone call away to get funds quickly. I consider him part of my team for my business. QuickBridge For The Win!
Noah Burkham
May 19
Rey made this very simple
I am excited about moving forward and the possibility of access to more capital this year if and when needed. I am grateful.
Roger Caatro
Jun 05
Quickbridge has been a valued…
Quickbridge has been a valued contributor to the success of our company. Providing timely support fueling company growth.
Glenn Stach