Help Your Business Clean Up With Car Wash Financing
Find Out How Much Cash Your Business Could Receive

Use Car Wash Loans to Outshine the Competition
You can take your company to the next level with the help of car wash business financing. Maybe you'd like to update your equipment to provide a higher quality experience. Or perhaps you could benefit from bringing on a few new staff members. The right car wash business loans can help you invest in the areas you'd like to improve upon.
A report from Statista found that there were approximately 272.48 million registered motor vehicles in the U.S. in 2017. This represents the largest number of cars, motorcycles, buses, and trucks in U.S. history thus far. Having that many cars on the road reflects the need for services that operate to keep them clean. If you'd like to improve or grow your operation, you might explore car wash business loans to keep your facilities running smoothly.
Finding the Right Source for Car Wash Business Financing
There are plenty of sources you might consider when applying for car wash business financing. You might explore conventional lending options, like banks and the Small Business Administration. These can be helpful choices if you need a large-scale loan. However, these lenders have somewhat stringent requirements for small business owners. Banks have high rejection rates, as they will turn you down for funding if your credit score is on the low end. The SBA is slightly less strict about credit scores, but will only allow you to use your car wash business loan in accordance with government regulations. What's more, both types of loans take a long time to get approved – if they get approved at all.
It can be helpful to apply for car wash business financing from an alternative lender. For small business loans, online sources have simple application processes and fast turnaround rates, often as quick as 24 hours. Keep in mind that not all online lenders are created equal when it comes to car wash business loans. Unlike some alternative sources, QuickBridge works with borrowers to identify the right amount and term for the individual need.
Easy and No-Hassle Car Wash Business Loans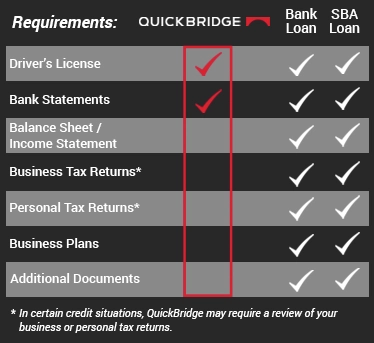 Simple and Easy Application Process
Apply with a one-page form and recent bank statements, no matter your credit score.
Flexible Terms and No Hidden Fees
We offer early payoff discounts, flexible payment schedules and transparent fees.
Cash Sent Directly to Your Account
Funds sent electronically to your bank account for fast access to your cash.
Clean Up with Car Wash Business Financing
Ways you can spend car wash business loans to achieve your company goals:

Equipment Updates
You can benefit from using car wash business financing to purchase new tools. According to Small Business Chron, you can expect to spend approximately $42,000 per bay when building and maintaining automatic units. Use equipment financing to upgrade or replace items such as tunnel car wash brushes, water systems, cleaning chemical and high pressure washers. Equipment spending can translate into a hefty return on investment.

Adding Seasonal Employees
When you plan on expanding, you might decide to spend your car wash business financing on hiring new staff members. Bringing on more employees can improve the quality of your company's customer service. In addition, extra help can lighten your own burden, allowing you to spend more time on business growth strategies and less on the day-to-day operational functions.

Marketing Your Business
One of the most effective ways to acquire new customers is through marketing initiatives. You can use car wash business loans to purchase ad space or create a customer referral program. You might also spend this cash from your small business loan to hire a marketing or communications specialist who can keep your media strategies on brand and profitable.
According to IBIS World, the car wash industry will earn a total revenue of $12 billion in 2019, with a growth rate of 3.4 percent over a five-year period. While many industries are being disrupted and destroyed by technology and automation, the car wash industry is benefiting from these advancements.
In California, in particular, the car wash industry is booming. The state currently has nearly 26 million registered automobiles, according to the State of California Department of Motor Vehicles. This number makes up about 10 percent of the all the cars on the road in the U.S. In addition to the large amount of vehicles, drought restrictions in the state contribute to the booming car wash industry because these businesses are able to recycle water. California business loans, along with car wash business financing, can provide car wash owners in the Golden State with the opportunity to market their companies and improve their operations to meet the high demand of customers.
And no matter where you live, you can rely on QuickBridge for your car wash business loan needs. We will supply you with industry insight specialized to your market, as well as any relevant guidance regarding different types of loans. Reach out to us today to find the right car wash business financing.
What Our Customers Have to Say
Excellent
Based on 380 Reviews
Jul 06
Had a great experience!!!
This additional capital was exactly what I needed to help with unexpected expenditures. I would definitely recommend QuickBridge to a friend!
Jan Banks
Jun 14
Darryl Strayhorn is awesome
He is always just a phone call away to get funds quickly. I consider him part of my team for my business. QuickBridge For The Win!
Noah Burkham
May 19
Rey made this very simple
I am excited about moving forward and the possibility of access to more capital this year if and when needed. I am grateful.
Roger Caatro
Jun 05
Quickbridge has been a valued…
Quickbridge has been a valued contributor to the success of our company. Providing timely support fueling company growth.
Glenn Stach