Business Payroll Loans to Cover Salaries
Find Out How Much Cash Your Business Could Receive
Funding to Ensure Employees Receive Their Paychecks on Time
Using employee payroll loans can be a saving grace in the event your business experiences a cash flow shortfall. In as little as one day, you could obtain the funds you need to ensure your employees get paid in full and on time. As a result, this keeps your staff happy and your business operation running at full capacity.
Quick Financing Access to Meet Your Business Cash Needs
Payroll is a critical expense for any company. While it's important to budget and allocate cash accordingly, financial challenges and unplanned costs are common for all businesses. When faced with the unexpected, businesses are forced to prioritize what gets paid first. As a result, it may put employees at risk of not getting a paycheck.
Without the necessary funds available to cover payroll costs, small businesses could face severe consequences. Employee salaries need to be paid out in a matter of weeks. Unfortunately, not all small business loans are designed to cover immediate cash need situations. But with a payroll loan, you can quickly tap into supplementary cash to get your employees paid.
Payroll financing for small businesses provides quick additional working capital coverage so you can make ends meet. Payroll loans are intended for bridge gap financing, used to pay workers. Similar to bridge gap financing, payroll loans might also be used to cover additional expenses on short notice.
Benefits of Employee Payroll Loans
QuickBridge offers small businesses payroll financing options to ensure your employees get paid promptly.
1. Get the cash you need quickly
Employee payroll loans are fast and simple to apply. You won't have to wait weeks or months for a bank loan. Get the cash you're short on today.
2. There is no collateral required when applying
Online Payroll Loans do not require any collateral when applying. Small Business Owners can greatly benefit from not needing to put up any collateral upfront.
3. Repayments are flexible
When repaying your employee payroll loan, you will have some flexibility in terms of how and when you make your payments. Get started with a simple application. A Funding Specialist will contact you to go over your payment options. QuickBridge provides a fast approval process and flexible repayment terms to ensure your employees get paid on time.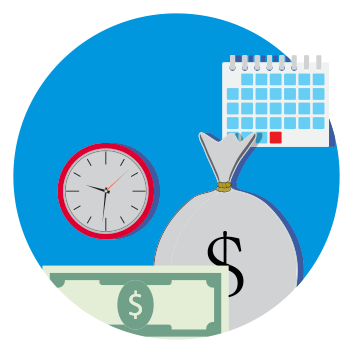 Applying for Online Payroll Loans
Speed is the top priority when it comes to payroll loans because your employees rely on a set payday. Applying for payroll loans online is the easiest and most obvious option for small business owners who need cash quickly.
When applying for payroll financing through the internet, an online lender can usually get a same-day decision. If approved, the money can be deposited into the account as soon as the next business day. That means funding is available in as little as a day to use as the business owner sees fit. Then, the loan is simply repaid over a short amount of time. Avoiding long-term debt is a primary goal of financing products like payroll loans. While unplanned financial situations are impossible to predict, online payroll loans for small businesses are there to provide backup.
Why Choose QuickBridge For Business Funding?
  Simple application process
  Business loans of up to $500K
  Receive funds within days
  No hidden fees
  Early payoff discounts
  Flexible loan term options
More Specialized Loans for Small Businesses
If the speed of funding is critical, choose a small business funding provider with the capabilities to deliver what you need as soon as you need it. QuickBridge specializes in precise financing with an easy application process. Plus, funding arrives in as little as a day of your approval. QuickBridge provides small business owners with trusted service, no hidden fees, and the right amount and term for your financing needs, including:
Whether it's to help with payroll, expand in new areas, or cover general expenses, QuickBridge is here to provide you with a smarter funding solution focused on your cash needs. Reach out today to learn more about your business's financing options.