Drive Results with Auto Dealership Business Financing
Find Out How Much Cash Your Business Could Receive
Getting Your Dealership Business in Gear for Growth
When your auto dealership needs a little bit of a push, some working capital from a trusted lender can come in handy. Partnering with an alternative lender such as QuickBridge for auto dealership business financing can put you on the road toward success. So where do you want to drive your business first?
When you think your auto dealership could use some more gas in the tank, you can count on an alternative lender like QuickBridge to provide you with the capital you need. Whether you know exactly how you'll use the cash or need some advice on how to allocate funds, you can rely on our help to keep things moving. Here are some examples of ways you might use auto dealership business financing.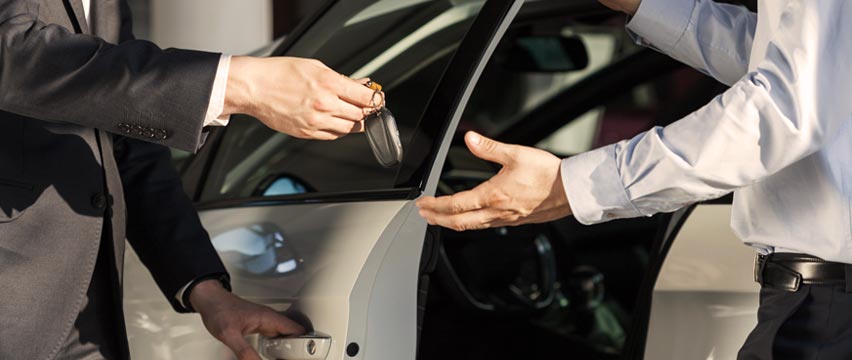 How to Use Auto Dealership Business Financing

Build Up Your Inventory
No car dealership can run properly when it doesn't have enough vehicles for sale. can help you keep enough automobiles on hand at any given time. Auto dealership business loans can offer you access to the newest models to attract car enthusiasts. You can also use financing to keep your dealership filled with your best sellers, whether they're reliable sedans or high-speed sports cars.

Advertising and Marketing
Word of mouth only goes so far. That's why it might be a smart investment to use auto dealership business financing for marketing and advertising. Whether you purchase a radio spot, invest in social media ad campaigns, or hire a marketing coordinator to handle this side of the business, you'll see that it pays to spread the word.

Attract and Retain Top Talent
Your car dealership would likely run to the ground if it wasn't for your hard-working staff. As such, you might put auto dealership business financing toward improving employees' pay and benefits. Your best talent might not stick with you if they aren't feeling appreciated. That's why it's crucial to invest in your workers.

Cover Operational Expenses
Running a car dealership is capital-intensive. From rent and other real estate costs to covering various expenses in between customer payments, you need a consistent source of cash flow to pay all the bills and keep your dealership running smoothly. Small business bridge loans can provide you with the working capital to keep your daily business operations flowing.
Auto Dealership Industry Trends
How do industry trends affect auto dealership business financing? While some retail-based industries have faced tough numbers with the rise of e-commerce, auto dealerships are earning more than ever before. IBIS World reported that the total revenue on the sales of new cars is $956 billion in 2019. This represents a 2.3% increase in sales over the past five years, since 2014. At the same time, the revenue of used car sales has also increased by 4.6% from 2014 to 2018, according to research from IBIS World. Sales from used car deals added up to a total of $114 billion in 2018. Dealerships of both new and used vehicles see this profit margin as a sign to invest in car dealership loans. According to the National Automobile Dealers Association, dealership service and parts sales totaled more than $116 billion in 2018. This sum is the result of over 310 million repair orders. Many auto dealerships are seeing this lucrative outcome as an opportunity to expand their businesses by offering for their customers.
Sources for Auto Dealership Business Financing
When you'd like to grow your business, you might look toward many sources to get access to cash. There are several major types of lenders business owners typically look to when they're in need of an auto dealership loan: floorplan financing, banks, the Small Business Administration (SBA), and alternative lenders.

Banks
Banks are a popular choice for big businesses, as they provide large loan sizes to support auto dealership business financing. In addition, banks typically provide consumers with expertise on how they might use their capital. However, these lenders have high rejection rates, with little to no forgiveness for poor credit. They also have long waiting periods, leaving you in the dark for weeks about whether or not you'll be approved.
The SBA
The SBA, a government agency that provides programs to offer bank loans at better rates, is a more viable option for small business owners. However, working with the SBA isn't perfect since they still work through a traditional banking system. As such, they have strict rules on how you can use your funding and have rejection rates that are almost as high as those of large banks.
Alternative Lenders
Today many small businesses look to alternative lenders to provide them with funding to grow. These types of lenders typically provide a fast and simple application process compared to traditional banks and SBA programs. The turnaround time on funding can take place within a matter of days. Plus, alternative lenders can usually work with applicants that have poor credit scores. They can also work with young businesses that have only been operating for less than two years.
Small Business Loans Designed for Your Auto Dealership:
Operational Expenses
Refreshing Inventory
Dealership Equipment
Employee Payroll
Unexpected Bills
& Much More ...
At QuickBridge, we typically process your loan application within 24 hours, giving you faster access to cash than you would by working with banks and the SBA.. Our loan officers are well-versed in a variety of industries, including auto dealerships. In short, when you look to us for auto dealership business financing, you can count on grade-A advice. Despite a poor credit history and a low cash flow, you can look to QuickBridge to help drive your business to success.
Excellent
Based on 322 Reviews
Apr 05
Excellent customer service
Manuel Venegas was an amazing person to interact with. Very courteous and…
Ravi Rao
Feb 09
Process was seamless
Process was seamless and every individual was incredibly professional.
Bradley Grant
Jan 09
Fast
Fast, fair, and if you get Chris Botros as your lending specialist, actually fun.
Germain Holdings Inc
Oct 16
Very professional
Very professional and the money was in my account the next day.
Tearra